By Abbey Huffer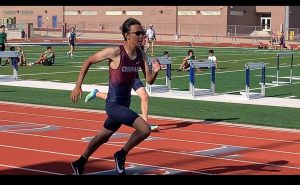 Stanley Zhang, a senior at Coronado High School, has accomplished a lot during his four years. From playing sports to taking a handful of AP classes and passing, Zhang has a bright future ahead of him. Zhang was recently accepted into West Point Military Academy, which has a slim acceptance rate of 9%. 
"The process was very rigorous, even more than many other top schools because they look at far broader range of one's character," Zhang said. "Applying to West Point involved getting a nomination from a senator/congressman (which was already its own application and interview), preparing for a physical test that you needed to pass, and taking up multiple leadership positions to demonstrate character and leadership."
Although putting in a lot of work may seem hard in the beginning, the outcome is said to be worth it in the end. For Zhang, it took a lot out of him to accomplish so much but a lot came out of his dedication.
"There were many points where I felt like I couldn't make it, but I'm glad I pushed through and got to where I am now," Zhang said. "It was a big relief because I've been wanting to go there since middle school but I know that there will be a challenge ahead of me. I strive to serve the country after what it did for my family because they went through some hard times and going to West Point itself has a lot of characteristics and skills to develop that you can't get at other colleges."
Zhang did a lot throughout high school. With school, sports, jobs, and so on, Zhang was busy full time. Zhang had been doing what seems impossible to a lot of students. Stanley has played both hockey and track during his high school years, both of which are rigorous sports. He has also been involved in competitive piano for most of his life. He's been in many AP classes and still maintained an outstanding GPA. Balancing a social life and school can be challenging but Zhang took it upon himself to make it work and also gives his advice to stay motivated for underclassmen. 
"It's a challenge because you don't get a lot of free time to sleep around but you just need to be attentive to make it work instead of procrastinating," Zhang said. "Try to get things done as early as possible. Many steps can take weeks to get processed or completed and the processing time is out of your control."
Starting a new chapter of Zhang's life might not be easy because with great power comes great responsibility, but Zhang has proven that he is determined enough to make whatever work. This new chapter of Zhang's life will open many doors for him. 
"I'm going to miss high school a lot because I basically grew up here since elementary school so it's a lot of good memories that I'm leaving behind. West Point is all the way in New York and I don't really have any family there but my brother, who also went to West Point lives in New York so it'll be a different environment but it'll be fun."