by Madison Kitch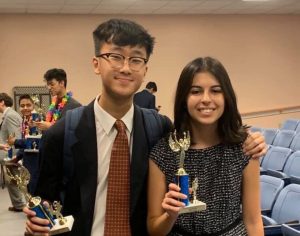 Standing at an impressive height of five feet, six inches, Ayda Atici doesn't exactly command a room– at first glance. To those who know her, she's all but timid or shy. Ayda is a strong presence in any debate or educational setting. She has been a staple in Coronado's debate clubs and activities for the last four years.
"Ayda is very smart, funny, and so sweet," senior Lily Bybee said. "She's very kind to everyone around her."
Students who glide past her in the hallway might not know that Atici has always had a lot on her plate. She's been in Model UN since freshman year, forensics since freshman year and has taken a total of twelve Advanced Placement classes– all while handling a job at "Color Me Mine", a local ceramics workshop, and keeping an impressive weighted 5.4 GPA. Out of the twelve AP classes she's taken, two of them have been AP Research and AP Seminar, which are both known to be incredibly challenging.
"I'm Turkish, so I studied Turkish soap operas and their representations of women," Atici said on her chosen AP Research topic. "I kinda compared it to the rest of the Middle East and found that it was richer than other cultures."
As previously mentioned, Ayda has been involved in many clubs at Coronado, including heavy hitters like DECA (Distributive Education Clubs of America), National Honor Society, Mock Trial and Model UN. Model UN, a club where students can simulate international relations meetings.
"I represented Turkey in Model UN," Atici said. "It was really fun pretending to be a delegate."
A lot of academic clubs on campus share some of the same members, and this can lead to competition or jealousy. In Ayda's case, it led to her delegating new friendships. She met most of her friends in freshman year because they shared clubs, and it truly became a family-like community.
"I'm going to miss my friends the most," Atici said when asked what she'll miss the most after high school. "We're all going to different colleges."
After high school, Ayda wants to pursue her dream of being an international lawyer. She wants to involve women's rights in her line of work as well. She plans on attending University of California San Diego, which has an exclusive acceptance rate of 37%. She will double major in political science and international studies.