By Joshua Christensen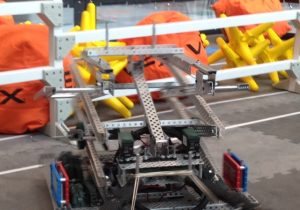 The five robotics teams went head to head with 55 other middle and high schools at the annual state Vex Robotics Competition on March 4 at Coronado. Coronado came in 23rd out of the 55 teams; they were recognized with the Judge's Award, the Amaze Award for excellent design, and the Teamwork Award. Although three of the teams made it to the quarterfinals, none of the teams are advancing to Nationals or Worlds.
"Coronado did pretty well this season. I'm a bit disappointed that we aren't advancing, but we earned the Judge's Award, and I'm very proud of that," Seth Goolsby, senior, said.
This year's competition had two sides, separated by a fence with giant stars (jacks) and cubes on both sides. Robots launched the stars and cubes to score points in an elementary game of risk and reward. This year teams that were successful specialized in delivering large amounts of stars in batches of three or two while maintaining fast speed and maneuvering. Using large batches increased the risk, but their fast speed allowed many teams to recover quickly from any small miscues.
"This was an excellent competition. There was great competitors and, thanks to Key Club and Stuco, great volunteers. Overall Coronado's robots did really well, and we earned some awards," Mrs. Lea said.
The final teams consisted of robots from Faith Lutheran, Clark, Sierra Vista, and Basic. Clark, Sierra Vista, and Basic triumphed over Faith Lutheran 2-0 and will be advancing to Worlds, while Faith Lutheran qualified at a previous tournament and will go to Nationals.
"I'm already looking forward to next year. We are going to overcome the new competition next year and hopefully go to at least state again," Brendan Graves, freshman, said.