By Rayne Hayes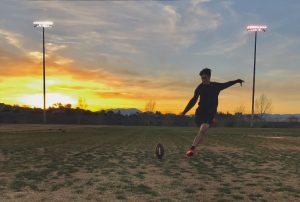 After years of playing his favorite sport, soccer, Gavin Wale, sophomore, switched his path; now he is spotted on the football field as a varsity punter. It all started in eighth grade when Wale's cousin motivated him to start kicking, laying down the basics. What he didn't know is that he would fall in love with the sport.
"My biggest inspiration and role model is my cousin Sean. On a full [ride] scholarship, he was the starting punter at Boise State for four years. He lived my dream, and the reason I do what I do is to follow in his footsteps," Wale said.
In his short time as a punter, he has already secured the rank of number one in the nation for his class. From punting he has learned to pick himself up after a bad day; this motivates him to come back even stronger the next time he steps on the field. Balancing his social life, school, and his athletics, including training 20 hours a week, hasn't been the easiest, but the punting specialist community gave him the ability to make new friends.
"My favorite thing has to be the specialist community. Everyone is supportive of each other, and we're all working [and competing] to accomplish the same goals. I've made lots of friends around the country, and I'm sure I will make many more," Wale said.
Wale hasn't committed anywhere yet, but with his ranking at such a young age, it gives him the ability to dream big. In the end, he wants to be able to achieve the same success that his cousin worked towards and receive a full ride scholarship to his dream college, Boise State University. He loves the progress of his sport and knows that if he isn't out practicing and getting better, someone else is. His family and friends stand as his biggest motivators, and he strives to do better for them and himself.
"Gavin is a goofball, he trains like a Division 1 athlete and is a hard worker. He is a great student and his letter from Princeton, he received today, proves that," Coach Froman, said.