By Ellis Sondrup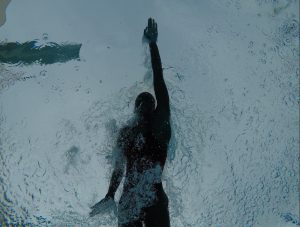 It's 5:00 a.m., dark, cold and the city is asleep, but there are students, elite high school athletes, that are up. Swimmers are about to dive in the pool, basketball players are in the weight room and runners are trying to get out before the sun does. On top of AP classes, friends, family and training, there's not much room for anything else. 
These elite, high school athletes are giving up their time, energy, social life and sometimes even grades to train and prime themselves for competition. Things considered essential to the "high school experience" are given up; parties are skipped, staying out late is taboo and eating whatever you want when you want isn't even an option. Anywhere from 12-25 hours a week are spent training for a sport that most kids will not pursue past college, and many, highschool. 
So what is it all for? 
The relentless practices and training take a toll on many of these athletes, causing injury, and in some cases, depression. A lack of training or ability resulting from injury or inability adversely affects these athletes who have dedicated their lives to a single sport. 
"Dealing with injuries is one of the hardest things I have had to do, and it takes a lot of discipline to be able to come back from an injury," senior Michael Luna said. 
Luna has swam for both the  school and his club team throughout high school, dealing with repeated injuries resulting from the intense training. "I sacrifice everything to try to become as good as I can. I just want to challenge myself and try to improve every day."
For some, training has become an escape from everyday life, even though it's a part of it. Practices that seem endless are a mental break for most: a time where student athletes can forget about the social pressures of school, friends and sometimes even family. 
"I found a way out of friends and out of having all this pressure on me," sophomore Charlotte Heness explained. 
Heness has been playing soccer for most of her life. She now trains strictly with a club team and trainer, hoping to one day play soccer at the professional and national level. "When I come onto the field, it all just releases…being on the field is just a safe place to do whatever I want to do. I get to create what I want to create in the game" Heness said.  
Many have hopes for college and some even have professional hopes. To these athletes, the hopes of competing at the collegiate level outweigh what they have had to give up to improve. However, for many of these athletes, competing in college is simply a continuation of the sport they love.  
"I play football because I love it. Plain and simple" senior Riley Danielson said.
 Danielson is continuing to play football at the collegiate level next year, playing for UNLV alongside his brother. "There's no better feeling than going to battle knowing that my boys have my back." 
Despite a dedication to athletic pursuits, most athletes simply enjoy it and can not imagine their life any other way. A packed schedule, long nights of homework and a tired body is usual, but enjoyable. The draw of competition and accomplishment is a drug, one that these athletes consider essential. 
"I'm addicted to the sport," Heness said. "It's an addiction. I train 9 times a week. I don't know what I would do without it, I really don't." 
Ask any of these elite athletes, and they would say the same thing. The sacrificing of so much in high school is worth it, simply for the love of the game.