By Amanda-Joy Lee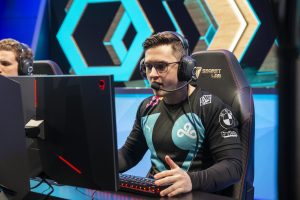 Sitting in front of a screen cheering for your team, you would think that this article would be about sports. Unbeknownst to the general public, video game championships have become the new Super Bowl, and gamers have transformed into their version of Tom Brady. There is a new career path being created, and it's changing the way people see the gaming community.
"The gaming community has gained a lot more attention from the media over the years," junior Daniel Dimzon said. "It's super cool to see people coming together watch this new sport."
In 1972 the first ESports tournament was a Space Invaders Championship. Today ESports has evolved into a billion dollar industry where players get wages and tournament earnings. For years gaming has been seen "as a waste of time," and now, pro-players usually practice 12-14 hours per day and have intense training in other countries to improve their gameplay on an international level. There are new genres of games including speed-runs (finishing a game in the fastest time possible,) free-for-all (FFA) games such as Super Smash Brothers, Battle Royales (games that encourage people to be the last one standing,) Multiplayer Online Battle Arena games (MOBA's) and First Person Shooters (FPS.) These games and careers have joined mainstream media, and it is only fit that society accepts the new sport and understand how to play it.
"My favorite part about playing competitively is that you have fun playing with or against friends," freshman Gavin Brown said. " There is a lot of money involved and it becomes very competitive, especially since it's very accessible for anyone to compete for it."
Getting into ESports can be pretty difficult, especially if you know nothing about the game. One recommendation before getting into ESports, just like any sport, is to know how to play it. Understanding and playing the game can make watching the gameplay 10 times more interesting. It also creates an experience that pro-players and regular gamers can connect with, and emphasizes the amazing feeling when your favorite team or player wins their game.
"I competitively play COD (Call of Duty) and I can say that the hardest thing about it is not getting burnt out," senior Ronald Koe said. "As it becomes more competitive, it's more about getting money rather than enjoying the game."
For beginning watchers, Tetris is the way to go. It is a simple game of trying to stack blocks on top of each other to create five lines (Tetris,) which is extremely entertaining to watch. The casters make the game with their constant play-by-plays and insight on each player that encapsulates you to the point where you want to be as good as them. It can be watched live on Twitch.tv and clips of each round can be found on their YouTube channel.
"Watching Tetris is actually super entertaining," Koe said. "It's really cool seeing their fast reactions while being able to stay calm."
For more avid viewers, here are some ESports Leagues that are coming into more mainstream media that you should watch.
Overwatch is an FPS game that has increasingly been shown on sports networks such as ESPN (if you want to learn more about Overwatch, check out this article.) It is filled with active gameplay, which is probably why it is constantly shown and is an easy game to pick up. You can watch it live on Twitch.tv, the Overwatch website, and sometimes on ESPN.
"I think that some games are worthy of broadcasting because they are easy to pick up," Brown said. "I'm hoping in the future, Rocket League will get its chance to shine on T.V."
League of Legends (LoL) is pretty complicated and takes some time to fully master but is completely worth it (if you want to learn more about LoL, check out this article.) The ESports community has some of the funniest and most outgoing players, but LoL takes it to another level. They actively interact with their pro-players, do after-game analysis, and do segments to get to know players more. The parent company, Riot Games, provides its viewers with an overwhelming amount of content found live on the LoL website, Twitch.tv, and YouTube.
"I got into watching ESports to improve my gameplay," Manabat said. "It improves my game strategies and skills that allow me to play the games better."
ESports has just joined mainstream media, and one day it will evolve into a bigger industry. It has encouraged a new career path that many thought was impossible, and with its ever-growing community and supporters, ESports will not only evolve people, but evolve the way they think and see video games.