By Riley Cable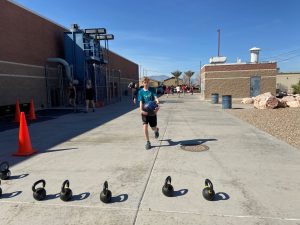 It's always a good time to embark on a fitness journey. Whether the end goal is to lose weight or to become a healthier person, exercise will help with that journey. When deciding what workout is best, it's important to think of individual needs. For those who need motivation from others, gyms that offer classes are the best option. Other individuals work best when they can be on their own track and can decide what is best for them. No matter what type of physical activity is desired, there are many options today that make getting healthy easy. 
"I like going to the gym since it's a nice stress reliever," junior Erik Dramm said. "I'm able to tune out all distractions and just focus."
Although some people are not interested in playing sports, others still have that team mentality, and training in an environment with other motivated people is very helpful. Working out next to someone giving their all, pushes everyone else to do the same. Energy bounces off everyone, and people are there for the same reason: to better themselves. Workout studios like FSY Fitness and TruFusion offer a wide variety of different workout classes, so there is something for everyone. Both studios offer cycle, yoga, pilates and more. No matter the mood of the day, there is a way to get the body moving and get energy out. Yoga and spin studios are currently very popular, so they can be found all around town with varying prices. 
"I really like FSY because I enjoy the tread and spin classes, and the music makes the experience super fun,"  junior Zoie Armijo said. "I've been doing yoga and trying to meditate to find my balance. It's really helped me a lot, so I love going there." 
For those who thrive completely off of competition, CrossFit gyms are the way to go. Every CrossFit gym is different, but the majority of them use a mix of strength training and conditioning. With WODs, aka workout of the day, no session is the same because there is constant variation. CrossFit gyms really create a community with the trainers and trainees. People who really commit their time and energy can begin competing in CrossFit competitions. Preparing for these big events really pushes the body physically but also mentally, so it's important that members of CrossFit are extremely supportive of one another. 
"My favorite part of CrossFit is the feeling when I finish," sophomore Molly Russel said. "I just enjoy being in shape and having done something productive. Every week, I can increase the weights I lift, and I know it is making me stronger." 
Not everyone enjoys group workouts, so the simplest way to get a workout in is to go to a local gym. Gyms are located everywhere, and the price for membership ranges from very affordable to more expensive. A basic gym, like Fitness 19, have basic cardio machines like treadmills and stair masters with some weights and weighted machines nearby. More expensive gyms, like LifeTime, offer a wide variety of machinery, a large free weight section and various cardio machines. Regardless of the gym, doing some form of activity each day will improve the quality of life tremendously, so go see which works best.
When making it to a gym just isn't realistic or for those who don't want to pay for a membership at one of these places, at home workouts are a quick, cheap alternative. YouTube offers a wide variety of videos that can target any specific areas. Even getting a short core workout in while watching Netflix is a great way to stay in shape. Getting fit doesn't have to cost tons of money since the internet has made it extremely easy to do from the comfort of one's home.
Working out does not need to be a chore. As soon as you figure out what your ideal workout is, it'll be easy to do it every day. Changing to a healthier lifestyle will help both physically and mentally, so it's time to start putting your health first.