By McKenna Cooley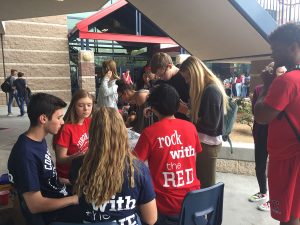 After a week full of spring activities and voting from Monday to Thursday, the 2017 senior court was announced after school on Thursday, April 6.
The 2017 senior prom court is Ryan Castellano, Jett Cooper, Andrew Ding, John Donohue, Garrett Furlong, Shelby Burdo, Jessica Darlington, Destiny Farley, Gabrielle Rivera, and Eira Traficant.
"I was honestly really surprised to hear that I was nominated, so I'm really excited to be on court and going to prom," Ding said.
Prom will take place on Saturday, April 29 at Reflection Bay on Lake Las Vegas with the theme Masquerade. Tickets are being sold at both lunches by StuCo; ticket prices will increase to $30 after spring break and $40 at the door.
"I'm most excited for the venue being at Lake Las Vegas. I think it'll be a picture perfect spot for a night I'll remember for the rest of my life," Traficant said.
The evening will consist of dinner, dancing, and announcing the king and queen.
"I'm very excited to spend prom with my track family but most of all with Garrett since this is our last school dance together. I am really grateful to be nominated for prom court. My high school experience has been amazing, so it's awesome to be able to end it with a bang," Burdo said.