By McKenna Cooley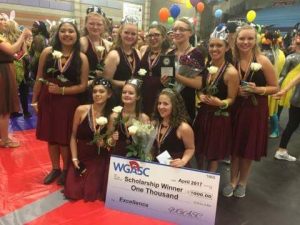 With hearts pounding and flowers from their mothers in hand, the color guard team received their third consecutive first place at the Winter Guard Association of Southern California Championships on Saturday, April 1.
"During the competition we were all able to show really strong emotion through our performance. Our coach always gives us inspiring words before every performance and that gives us confidence to perform," Sarai Gramajo, junior, said.
High schools in the Vegas area as well as two colleges competed. There were multiple divisions at the competition, but color guard only competed in the highest division of high school competition in High School AA. All divisions and schools based their routines on the theme, "Time in a Bottle," selected by the judges at the beginning of the season.
"I loved watching everyone work from knowing nothing to being able to spin beautifully on the floor. It was so exciting for this to be our last competition," Tate Proga, senior, said.
In addition to their first place win, the team had another reason to celebrate with senior Gabby Rivera's WGASC color guard scholarship for academic excellence announced after their win. She put in an application to the association along with many other seniors in the county and was selected to win the $1,000 scholarship.
"After I won the scholarship, I went and thanked the competition director and my parents because they always push me to follow my dreams and pursue color guard," Rivera said.