By Rosa Cesareo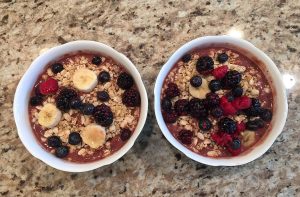 As hot summer days get hotter, refreshing snacks help beat the heat. Instead of ordering fattening ice creams and sodas, opting for an açaí bowl satisfies the sweet tooth without the extra fat calories. Homemade açaí (ah-sigh-ee) bowls are easily made and ready, requiring little more than fruit, milk, and a blender. For those who love to snack yet lack culinary expertise, here is an effortless treat to enjoy all spring and summer.
PUREE
1 pack of açaí (Sambazon Unsweetened Açaí Smoothie Pack) found at Sprouts or Whole Foods
½ cup strawberries
½ cup blueberries
½ cup unsweetened vanilla almond milk
½ banana
Ice (optional, replace with frozen fruit)
First, run the açaí pack under water to thaw and break the pulp into smaller pieces. In order, put the banana, açaí, strawberries, blueberries, and a splash of milk in the blender. Ice can be added to the mix, however, it may water down flavors; thicker consistency is best achieved by freezing the fruit first. Blend on low until the large chunks have broken down, gradually increasing speed and adding milk. Then, blend on high for 15-20 seconds after the ingredients are well mixed.
When the puree is ready, choose from popular assortments of toppings below or get creative on your own.
TOPPINGS
*amount of fruit varies by personal preference
Traditional Açaí Bowl: blueberries, sliced strawberries, sliced banana, ¼ cup granola, and optional raw honey drizzle.
Hawaii 5-0 Rainbow Bowl: blueberries, sliced kiwi, sliced banana, chopped pineapple or mango, sliced strawberries, ¼ cup granola, and optional raw honey drizzle.
Strawberry Nectarine Açaí Bowl: nectarine, strawberries, banana, granola, and optional coconut flakes.