By Rayne Hayes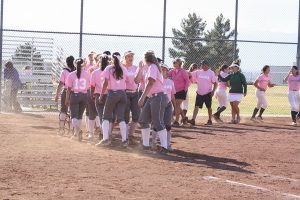 With a current record of 20-0, varsity softball is set up for success in their next journey: play-offs.
"I'm most proud of how much everyone on the team has stepped up this year. We have had a great team for a long time, but we've never reached our full potential like we have this year. Our team gets along so well, and everyone trusts each other to make clutch plays when we need them to," Taylor Okamura, senior, said.
Their league season started on Monday, March 13 at home plate against Canyon Springs. The Cougars had no problem securing their first win, 19-0. They continued to prevail in their next game against Valley on Wednesday, March 15 shutting out the competition 16-0.
The next league game was at home plate against Silverado on Monday, March 20. Posing a larger threat than their past competition, their opponents hit two home runs; however, the girls had no trouble adding a win to their record. The final score was 12-2.
Softball challenged Rancho on Thursday, March 23, beating them 5-1, and the next day they swept Foothill 11-2. Eldorado had nothing on these girls as Coronado gained their third shutout of the season on Monday, March 27, 13-0. They didn't slow down there. Hungry for another win, varsity softball secured another shutout on Tuesday, March 28 against Wilsonville (Oregon).
In their closest game of the season against Basic, they won 5-4, on Wednesday, March 29. In their last game of the month, the Green Valley Gators had high hopes of ruining the ladies' winning streak, but they didn't come close. The Cougars secured their ninth win of the season, 19-6, on Friday, March 31.
"We knew that it was going to be a close game [the Basic game], so we really just needed to pull together as a team and trust each other to get the key hits to push the runs in. That is exactly what we did, and the end result was exactly what we wanted," Tatum Spangler, junior, said.
Starting off the new month right, the ladies achieved another win against Liberty on Saturday, April 1, 4-1. Stepping away from the home playing field, the Cougars traveled to Las Vegas High School on Tuesday, April 4, yet it didn't phase them because they locked another win, 11-1. Two days later, away again, varsity softball caught another shutout against Canyon Springs, 16-0.
Back at home, challenging all of their past competitors for a second time, they acquired another nine wins beating Valley 16-0 on Friday, April 7, then Silverado on Monday, April 17, 9-0. Next was Rancho in a 2-1 game on Friday, April 21. Foothill also put some homeruns on the boxscore, yet it wasn't a problem for the Cougars, who took them down 8-4 on Saturday, April 22.
Their last five league season games were a breeze since none of their opponents came within six runs of beating them. The first school up to bat was Eldorado on Tuesday, April 25; however, the girls grasped a shutout, 15-0. It didn't stop there because two days later they shutout their closest competitor, Basic, 3-0. Following that, Green Valley down 17-2, Liberty 10-4 and Las Vegas 16-5.
"Coming to see our play-off games would mean a lot because we've done so well this year finishing with an undefeated record in league game and are currently seeded first in our division. Softball is really a sport no one pays attention to so it would mean a lot to us," Veronica Jarchow, junior, said.
Continue following the undefeated champs in their journey to play-offs today Tuesday, May 9 at four p.m. against Silverado at home plate.