By Ryan Kelleher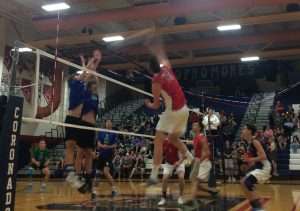 The men's varsity volleyball team beat the Green Valley Gators 3-2 on senior night, Tuesday, May 2.
The Cougars started the first set with the serve. Neither team was taking a substantial lead for most of the set. The Gators called their first timeout at 17-12. After the timeout, the Gators began to catch up. At 22-20, Coronado called their first timeout. The Cougs ended up winning the first set, 25-22. The Gators went into the second set playing very well. The Cougs missed many serves and struggled to stop the Gators from going on point runs. Green Valley won the second set, 17-25.
"Even though we won the first set, I found that we started the game off slow. We needed to find another way to motivate ourselves," Coach Johnson said.
Within the first few points of the third set, Benjamin Truman, senior, fell to the floor. Truman injured his foot and was unable to play for the rest of the match. The team was shaken by their teammate's injury, but was able to keep up with the Gators. At 20-21, Coach Johnson called a timeout. Coronado came back and tied the game up, 24-24. In volleyball, a team must win by two points. Eventually Green Valley took the upper hand and won the third set, 29-31.
"Emotions were definitely high in the third set and the whole match," Coach Johnson said.
The Gators started off the fourth set with a five-point lead, but once the Cougars earned the sideout, they caught up, 6-5. The score was close throughout the set until the end. The Cougs managed to take the at 21-18 when Green Valley called a timeout. The Cougars ended up winning the fourth set, 25-20.
The fifth and final set only goes to 15 points, so the Cougs needed to come out strong in order to win the match. They started off with a lead and were winning 8-5 when Green Valley called their first timeout of the set. In the end, Coronado took the set and the match off an ace from setter Matthew Wilson, 15-9.  
"My favorite memory is sweeping Green Valley twice my senior year. This was really important to me because that was my first two times ever beating Green Valley," Drew Hamlin, senior, said.
This annual event is devoted to the seniors on varsity. The volleyball program honors these players by giving them recognition for their accomplishments and free gifts. This year's honorees were Ryan Garlick, Nikolas Purser, Benjamin Truman, Drew Hamlin, and Stewart White.
"Playing for Coronado over the years has been relaxing, not too stressful, and a good time," Ryan Garlick, senior, said.