By Joshua Christensen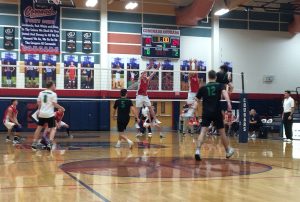 Varsity men's volleyball couldn't keep up with the Palo Verde Panthers in the semi-finals, losing 0-3 on Monday, May 15. With a final point spread of only 15 over the whole game, the Cougars remained competitive throughout the game.
The Panthers served to start the game winning the first point. On the next play Matthew Wilson, junior, went up to block and came down with an ankle injury on the second play of the game. Alex White, sophomore, the varsity back up setter, came in for Wilson and handled the pressure well putting up 36 assists and five digs. The Cougars fell short by two points in the first set.
"Accidents happen, and Alex did awesome going in for me. They went out there and played their game, and Palo wasn't expecting that," Wilson said.
Determined to make up the difference in the second set, Coronado started out strong before losing momentum only a few points into the set. They made a final surge to 20-25 to end the second set. Morale was low during the third and final set, and the Cougars struggled to get kills around the Panther block. The final set ended 17-25.
Men's volleyball made it to the semi-finals this year which is an gain over last year where the Cougars lost off the bat to Valley. Improvement also showed in this year's undefeated conference record, 10-0, and their 27-16 overall record.
"Overall the season went well because we went undefeated in regional play and we made it pretty far in the playoffs. Also, the season as a whole was fun." Timothy Kelleher, junior, said.
While this season has been good for the Cougars, they can't stop improving. With five seniors leaving, Coronado will have to work to replace the talent they're losing. The Cougars have five juniors ready to step up and fill the shoes.
"I hope that the underclassmen, the juniors, sophomores, and the freshman, all see what they need to do to reach the same level or greater that this year's team achieved. That they realize it takes a lot of hard work and discipline—that this group of seniors put in—and that the new seniors will follow that example," Coach Johnson said.
Coronado volleyball will hold intramurals over the summer before the next season begins.