By McKenna Cooley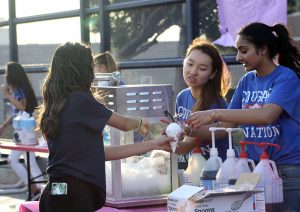 StuCo hosted Freshman Festival on Wednesday, May 24 to familiarize incoming freshmen and their families from Del Webb, Bob Miller, and other middle schools with Coronado and all it has to offer.
"The students and staff at the school were very welcoming, and they had a variety of clubs, which allows everyone to find something they enjoy. Overall I think the festival was really fun and helpful," Sydney Johnson, eighth grader from Del Webb, said.
At the beginning of the night, parents and students gathered in the gym for a welcome ceremony with information from the deans and assistant principals. Student Council members played music in the courtyard, cooked hot dogs, made snow cones, and lead tours around the school.
"Honestly I'm really excited about these new freshmen. They look like they have a lot of potential to be great students and great people," Hayden Henness, junior and founder of Cougars for Change, said.
In the cafeteria, the sports teams had tables set up where coaches and players offered information about intramurals and sign ups. More tables were located in the courtyard where clubs such as Key Club, Environmental Club, Robotics, and multiple Honor societies had treats and information welcoming the future students and inviting them to join.
"I'm really excited for next year with the new possible members for NEHS that we met, and it was awesome to see the members of different clubs talking and kind of coming together to greet the incoming freshmen," Sedona Whalen, sophomore, said.