By Lexi Madison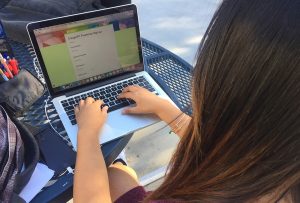 Mentors are needed for the new CougarFIT program to help and guide the incoming freshmen class as they make their transition into high school. Mentoring will begin during the 2017-2018 school year.
"Overall,what we're trying to do is to promote school spirit and get more kids involved in activities [ones listed below]. We want them to feel like they're part of a whole," said Mrs. Beaudreault.
In order to be eligible, participants must be a junior or senior during the upcoming school year, with a minimum 2.0 GPA and 80% attendance in class. Students who participate as mentors will earn a medallion to wear at graduation and half a credit of community service.
"I applied for CougarFIT to help out, plus the medal is a nice incentive as graduation comes closer," Faith Teagarden, junior, said.
Incoming freshmen will be matched with mentors based on areas of interest including STEM, performing arts, community service, leadership, and career, technical, and visual arts.
"I chose leadership. I want to make sure that freshmen feel comfortable," said Hailey Knowles, junior.
Those who are interested in participating can fill out the application before May 31. Mentors must attend a full day of leadership training held at Coronado on Aug. 8. The program will begin on Aug. 10. Incoming freshmen looking to participate need to pay the $25 fee to the banker before August 1. Credit cards aren't accepted, and there will be no refunds.