By Maddie Baker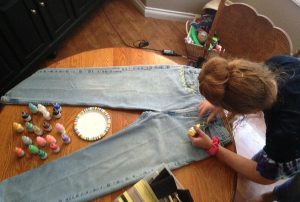 More and more teens are immersing themselves into the world of thrifting. Upcycling has become a big craze, and teens are taking fashion into their own hands. They're ditching department stores and DIYing their jeans. The latest trend flooding Pinterest accounts is DIY jeans.
"I like to DIY jeans because you can make them your own. It's cool to have one of a kind things that nobody else has. You can really express your creativity by DIYing your own clothes and showing your style," Haley Morton, sophomore, said.
Innovative people have discovered their jeans can be renovated over a dozen ways by cutting them up. They have turned their favorite jeans into a simple summer look by making them into shorts while others trim the hems or cut holes in their jeans and use tweezers to fray the edges. Designing high-low hems and patterned hems, like scalloping, has also become popular.
Another 70's trend that's re-emerging is using scraps of fabric to patch up holes. Redesigners use bits of old clothes as patches, or fabric samples can be found at Joann's. Some people like to buy different denim washes and create two-toned jeans. Others cut giant holes in their jeans then wear cute tights or fishnets underneath.
"I think [people who DIY] like to be unique and wear something that no one else can, and it's always cool knowing you made something all your own," Celeste Kiernan, freshman, said.
For those who like to sew, there are millions of designs for embroidery such as stitching words or patches into their jeans. Unique accessories like fringe or zippers at the back of the jeans have also become popular. If using a needle and thread is too time consuming, there are fabric markers and paint available to draw right onto the jeans. DIYers can also purchase iron on patches at their local craft store.
Jeans are finally getting an upgrade with a personal touch. Less expensive jeans can be found at Goodwill, Savers, and Salvation Army. Don't break the bank for unique and trendy jeans.
"Goodwill has cheap donated items, and they usually have a large inventory. You have to rifle through a lot, but you can usually find something," Reid Pickner, senior, said.