By Bryce Becker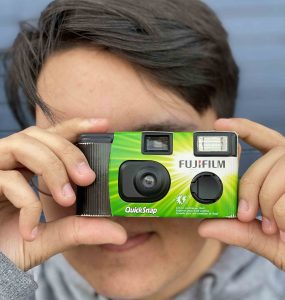 It's not all snap, tap and post these days as disposable cameras return in popularity capturing an audience with authentic and vintage photos. Social media influencers and nostalgia seekers alike seek to capture spontaneous and imperfect moments with the snap and flash of a disposable camera.The 'click and hope' mentality is common as teens don't have unlimited opportunities to take the perfect photo like they do with their iPhone. 
"I love disposable cameras because you can't really get a "perfect" picture unlike a phone where you can take hundreds," junior Rachel Burt said. "I guess it just makes each picture much more special. I love to use my disposable when I'm with my friends, and I want to capture the feeling of a moment because once I use up my pictures and get the film developed, I can keep those memories forever.
Brands like Kodak and Fujifilm offer disposable cameras that include 27 exposures for $15 to $25 dollars. Ideal for true adventure seekers, waterproof disposables don't shy from any experience, rain or shine. When all of the photos are taken and the film has run out, photos can be developed at Walgreens or CVS for $12 to $13. 
"I got a disposable because I thought that it would be a new fun way to take pictures," junior Ava Nhaisi said. "Especially because you don't know how the picture turns out until you get it developed which is my favorite thing about it. I use my disposable because I can take a lot more pictures and it's easier to carry around."
An alternative to disposable cameras is the polaroid camera. Varying from the disposable, polaroids print the photo instantly after taking it. This offers a quick look at how the photo turned out and a faster way to get the physical photo. Though the polaroid is initially more expensive, $100, you only need to buy one and more film can bought to refill it. 
"I think taking a photo with a disposable makes it more memorable in the sense that you can take a pic and not know how it looks and that's the magic of it," senior Carina "Once I develop the photos I send them out to all my friends and store them away to make a collection."
As disposables make a return, so do physical photos, many make a photo wall of all the memories or give them to friends. Disposables and polaroids allow you to relive a moment in the physical vintage and classic style you can give to friends or hang up to remember. So make sure you have a disposable with unexposed film before you go out the door to capture