By Kiley Brown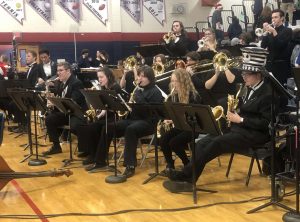 Students and teachers attended the annual Winter Fine Arts Assembly on Friday, Dec. 13. Jazz band, men's barbershop, symphonic strings, Cougarettes, women's barbershop, wind symphony, concert choir and theatre all performed at the assembly. Each group took turns to showcase their talents. 
"This assembly was a lot of fun because we got to put on a performance for the students," music appreciation teacher Mr. Paredes said. "It was nice to know that students were able to perform for their peers and enjoy holiday music together." 
Jazz band warmed up as students entered the gymnasium. Kicking things off, the small ensemble performed "Not So Silent Night." Shortly after, men's barbershop performed "Down Our Way." 
Orchestra then presented "Sleigh Ride." After, members of the Cougarettes showed off their moves, performing to "Turning Tables" by Travis Lake. Women's barbershop sung "Sleigh Ride" and "Winter Wonderland," arranged by seniors Mackenzie Leftler and Sarah Crockett. 
"This was the second arrangement I have made for women's barbershop," Leftler said. "I find it so cool to take something and twist it just a little bit to your making. It is always a challenge making the fun harmonies and staying true to the song. It is amazing watching it come to life and always worth it." 
Wind symphony performed "Variations on America," concert choir following with "We Need a Little Christmas." The choir also performed in American Sign Language, including the deaf community who could experience the presentation as well. Theatre then showcased  "One Day More" from the musical "Les Miserables" which is theatre's upcoming show. 
Coming together at the very end, almost all groups performed "Dragonborn" from the video game "Elder Scrolls: V Skyrim."
"I am proud to be a part of Coronadao's theatre department," senior Sophia Sanders said. "We are all excited for the play to come and I am happy with how our performance went."