By Madison Kitch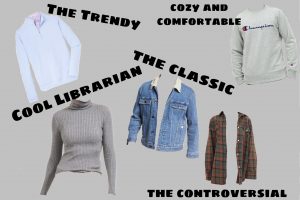 When the colder months roll around the seasonal fashion trends begin to shift from showing skin in the summer to bulking up in snow gear during the winter. Although Vegas doesn't have the largest temperature shift, everyone needs to have a few winter fashion staples. Dressing like an extra in a romantic winter Hallmark movie has its perks, and here are a few pieces to get started.
 The Classic: Denim Jacket
Denim jackets add flair to an otherwise simple outfit. Being a staple in everyone's closet since the beginning of time, there are so many different styles to dress up or down an outfit. Many denim jacket wearers apply cute patches to their coats; this adds a personal touch to any item. Have fun playing around with denim jackets but beware of the fickle denim-on-denim. Although it's not always bad, it's crucial to ensure the washes of denim are different (ex. A black denim jacket with white jeans). Justin Timberlake and Britney Spears tried the "Canadian tuxedo" in 2001 at the American Music Awards, and it didn't go so well.
"Denim jackets are fashionable," Emily King, freshman, said. "They match with a lot of outfits."
The Librarian: Turtlenecks
Many people dismiss the turtleneck as something for the "over-40" crowd, but this is simply not true. A classic turtleneck can go underneath a funky graphic tee for a layered look, or it can be worn on its own for a flattering fit. Turtlenecks are a necessity for any winter wardrobe because of their versatility, and they keep wearers warm. An added bonus of turtlenecks is the easy dismissal of chunky scarves because the wearer's neck is already perfectly covered.
Cozy and Comfortable: Crewneck Sweatshirt
Crewneck sweatshirts are the most basic and neutral of winter sweaters. It's unisex, can easily be personalized and is pillow-soft on the inside. For the extra frosty days this winter, layering a turtleneck under a crewneck is sure to keep heat locked in, ensuring coziness. Crewnecks also allow for easy personalization (just like denim jackets). Buy a crewneck from Walmart, put a patch on it, and BAM! Instant personalization!
"I like crewneck sweaters because they're comfortable and it's like a hoodie without the hood," Liam Deems, sophomore, said. "It would be nice to have pockets though."
The Trendy: Quarter Zips
The perfect quarter zip is hard to come by, but this trendy top keeps everyone warm. As the name suggests, quarter zips are similar to crewneck sweaters, but the zipper prevents wearers from getting too hot or stuffy. It's hard to find the history of quarter zips, but they seem to have been popularized by Mister Rogers of "Mister Rogers' Neighborhood" fame. The show began in 1968, but quarter zips weren't exactly high fashion then. Like most fashion, things make a return, and now there will be a quarter zip. They provide a vintage look. Whether going to a mainstream shop or secondhand store, it'll be easy to find one of these timeless tops.
The Controversial: Flannel
At first glance, a flannel doesn't seem controversial, however, flannel was originally crafted from sheep's wool; intended to keep people warm. Most common flannels skip the sheep and are now made of cotton or polyester blend. Many true fabric flannels are expensive, and the Vegas winters aren't cold enough for wool. Instead, flannel patterns add a rustic, natural vibe to any outfit.
"They [flannels] keep me warm without weighing me down too much," Dominick Jimenez, sophomore, said. "It's comfortable without being overbearing."
Overall, winter fashion can be made into whatever. Breaking traditional rules is possibly the most fun thing about being creative, fashion-wise. However, having a few staples to fall back on is always ideal. Stay warm this winter.