By Wyatt Boyle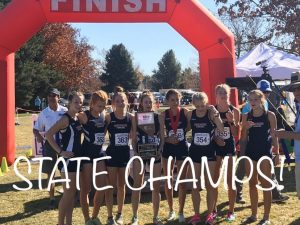 Women's varsity cross country won the Class 4A State Meet in Reno on Saturday, Nov. 11. The women's team placed first with a score of 50 points, beating 28 other schools including former state champions Reed and Centennial.
"It was a tough course and higher elevation," senior Porsche Eismann said. "We were undefeated all year so it was a huge accomplishment and great season."
Eismann took second place of 81 runners with a time of 19:50. Juniors Erin Shannon, Kylee Barid, Ashlyn Hayes, and sophomores Kelly Denninghoff and Maddie Hoffman placed high enough to maintain their undefeated season.
"The girls did a great job all year long," Coach Tondryk said. "Our number two runner didn't run which showed how much depth the team had. It was really just a team effort."
The men's team did not advance to state due to injury and sickness, but individual runners senior Brendan Graves and sophomore Ayden Manning both competed in the meet. Graves ran a time of 17:46, and Manning ran 18:26. 
"It was super exciting, and I loved every second of it." Hayes said.