By Joshua Christensen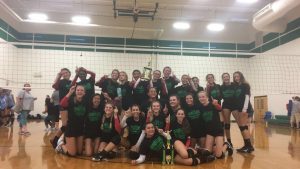 Women's freshman and JV volleyball took the competition by storm collecting the first place trophy in Palo Verde's 2017 Panther Classic on Friday and Saturday Sept. 8-9. Both teams accumulated six wins over the span of the tournament.
"Everyone honestly did so good, and the teams we went up against were challenging as well. But overall winning first place especially this early in the season felt really good, and we were all really excited to be able to achieve that," Ashleigh Mabry, sophomore, said.
Both teams played Durango and Moapa on Friday and quickly defeated them without losing a set. The next day, JV defeated Las Vegas, Centennial, Faith Lutheran, and finally Silverado in the championship. The freshmen came out on top over Foothill, Moapa, and, in the championship, Centennial. Neither team lost a single set.
"The other teams at the competition were strong, but our team worked hard and pulled together to fight through it and take the trophy. I'm really looking forward to the rest of the season," Jaylen Evans, freshman, said.
Cougar volleyball will continue on Sept. 14 when they face Canyon Springs at home. Freshman and JV will play at 5 p.m. and varsity will play at 6 p.m.
"It was a super awesome time supporting and assisting the freshmen. They destroyed all the other teams there. I don't think anyone can match their skill; they're probably going to go undefeated," Corgan Roades, sophomore, said.