By Angelina Callorina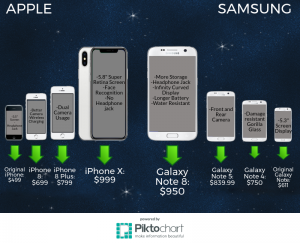 Whether it's the revival of a glass back, a bigger screen, or new applications smartphone companies are creating new models to meet demands. With those high advanced phones come higher prices. The new models – iPhone 8, iPhone 8 plus, iPhone X, and Galaxy Note 8 – include a continuous surface that carry the screen to the edge of the phone and multiple new features that give Apple and Samsung users mixed reactions about the price.
These three phones are the most expensive compared to the previous iphone models. The iPhone X is being sold for $999, the iPhone 8 is being sold for $699, and the iPhone 8 plus for $799.
"A phone that costs one grand is a ridiculous price to pay, and it doesn't have extremely amusing features that are eye opening. Some people say that the iPhone 8 is better than the 7, but I feel like only a couple features have been added to the 8 that make it different from the 7," Giuliana Caringella, sophomore, said.
One of the biggest differences between the new iPhones and it's predecessors is that they are now wireless. The phones are now free from charging and headphone cords; instead, they are charged on a Boost Up Wireless Charging Pad, which is a charging pad on which the phone is placed for it to charge.
Both phones now have durable glass on the front and back. The X has a new side button that activates siri, sensors that enable face recognition, and a screen that extends to all edges of the phone.
"The IPhone X is amazing, and I would definitely buy it. The two features I'm looking forward to are the wireless charging and that the phone comes with a set of wireless EarPods! This is much better than just a phone now," Ethan Morganti, junior, said.
Samsung also came out with a new phone: the Galaxy Note 8. The new 6.3" screen is the largest screen on a Note device and was made so there is more space to view and work on. The price of the Galaxy Note 8 is $950 compared to the last Galaxy Note, the Galaxy Note 5, which costs $839.99.
"With the Galaxy Note 8, you get a massive screen perfect for working on and playing games. You also get a stylist that helps with fine detail in type or drawing, with the ability to download just about anything from the web straight to your phone like pdfs, templates, and so much more. And the battery saving modes is wonderful; you can have a medium battery saving mode and a max battery saving mode. You can also adjust the screen resolution, too. And a bonus you can customize literally everything," Hristo Dahlke, senior, said.