By Emerald Green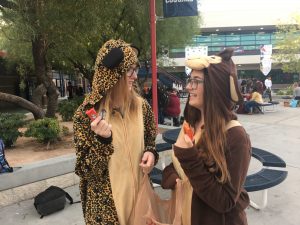 To most Americans and Canadians, October means pumpkin-carving, scary movies, and Halloween costumes, but candy is perhaps the most iconic staple of the fall season. Despite the fact that these fun-sized favorites like Snickers, Twix, Kit-Kat, Hershey's and M&M's are placed in practically every pillowcase of anyone that yells "Trick or Treat!" on Oct. 31, most trick-or-treaters and candy enthusiasts do not know the origins of their favorite chocolates or the connections between them. Most common candies belong to two main brands— Hershey and Mars.
As one of the most famous names in the candy community, Milton S. Hershey, first started with caramel when Lancaster's Caramel Company became a success in 1886. The very first Hershey's chocolate product was cocoa mix, thus creating the candy giant in 1894. Hershey made chocolate affordable to everyone, previously a luxury only few could enjoy. Hershey built a model town, complete with trolleys, houses, schools, a zoo, and Hersheypark for his hard-working employees and donated his entire fortune to his many charities after his death.
"Hershey is actually like a whole amusement park where you can play games and ride little rides. They decorate the whole place chocolate-themed, so even the lights they hang up around the town look like Hershey's kisses. I went there when I was seven; it was like heaven," Alli Harper, junior, said.
The candy named after the common display of affection, Hershey's Kisses, was first wrapped by hand in 1907. Hershey's Chocolate Syrup let children fix their own chocolate milk in their very own homes for the first time in 1926. According to legend, Hershey's was actually a part of the original s'mores recipe of 1927 when Girl Scouts would keep asking for "some more."
Milky Way was the first candy invented and sold by Frank C. Mars when he first opened the now multi-billion dollar candy corporation, Mars, and not the Mars Bar as many would expect. Then known as the Mar-O-Bar, Forrest Mars, the new heir to the humble candy kingdom, invented the nougat-caramel-filled milk chocolate in 1932. Today, the candy company that started from a small kitchen with butter cream candies in Tacoma, Washington also specializes in drinks, dog food, spices, rice, and symbioscience. Mars products are sold in 78 different countries.
A subsidiary of Mars, Ethel M is located in Henderson. Named after Forrest Mars' mother, the chocolate factory and garden is located at 2 Cactus Garden Dr. They make a variety of different chocolates all-year long, including pecan brittle and sea-salted caramels. Free samples welcome customers at the entrance after they have the opportunity to witness how Mars chocolatiers make their assorted sweets.
"It's so much fun to go with friends and just walk around and hang out. The lights [during the holiday season] make it look so magical. I love the free samples," Maddie Haag, junior, said.
Among other Mars products, Snickers, the candy that made the line, "You're not you when you're hungry," famous through cameo-filled Super Bowl commercials was created in 1930. Two years later, Three Musketeers was introduced, followed by Maltesers (1936) in Europe, and Kit-E-Kat in 1939. Originally limited edition, Twix first staked their claim in the U.K. in 1967, followed by the U.S. in 1979. Skittles were not manufactured in the U.S. until 1981.
"Snickers is one of my favorite because they are the best of both worlds, sweet and salty," Trista Joy, freshman, said.
Mars became a parent company for the first time after establishing M&M Limited in Newark, New Jersey. The first M&M candies were plain chocolate and originally made for the U.S. military in 1941 during World War II. As "The candy that melts in your mouth and not in your hands," Mars soon realized that others would appreciate such traits in their sweet treats and released it to the general public in 1945. Today, Mars makes no attempt to hide the ingredients and nutritional facts of their products, claiming to promote a healthy and balanced lifestyle.
Having been known for the phrase "A Mars a day helps you work, rest, and play", M&M's were originally supposed to play the lead role next to Elliot in Steven Spielberg's "E.T.", but when Mars declined, the role was given to their competitor, Hershey's newest and struggling candy Reese's Pieces. The miniaturized version of the popular Reese's Peanut Butter Cups made its film and public debut as the children attempted to make their new friend feel less alienated.
Every year, children of all ages go door-to-door threatening a trick, expecting a treat. They walk in their costumes, in search of the King Size versions of these candies, ignorant of the two candy kings that monopolize the holiday.