By Kierra Long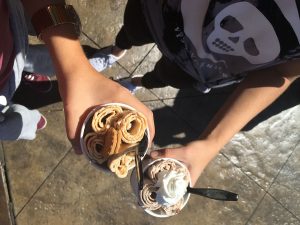 It's well past midnight… a nameless teen scrolls through her social media and a video of a stranger rolling ice cream keeps her droopy eyelids awake.  Social media has a big influence in teen's daily lives, and they tend to get most of their inspiration from the endless loads of trending food posts, resulting in the battle of good versus trendy.
"I went to Rolled Ice Cream two weeks ago. I heard about this place from all of my friends on social media, and I posted it on my Snapchat story. I loved this place because of its unique flavors, and the way they make the ice cream even though it was a little expensive," Yasmeen Danial, junior, said.
A study conducted by Y Pulse, a youth marketing company, proved that 38 percent of 13-33 year-olds claim to have posted about a trending brand on social media. Social media users may follow their peer's opinions, which can cause sharing rates to greatly increase. Teenagers spread their experiences by tagging, retweeting and sharing.
"Whenever I see famous people like Kylie Jenner post products I don't really believe their opinion but if a friend I trust goes somewhere and suggests it to me I will go ahead and try it out on my free time," Sophia Potamitis, sophomore, said.
Social media is a great platform to promote, although most of the time that is not the purpose of the post, tweet, or share. Teens tend to take advantage of this huge platform making their review more about the attention than the actual experience.
"I don't go to a food place just because I saw it on my feed but I guess it is always useful for ideas when I'm bored and have nothing better to do than try something new," Nathan Ferenandez, freshman, said.
The online media is a new system for reviewing. Bowlology and IN and Out Burger regularly make an appearance on social media. Anywhere from the neon signs and pleasing assertion of fruits both places are prominent to local teens. Many adolescents go to a place just for the social acknowledgment that follows.
Although aesthetically pleasing to those tired eyes, the girl that tagged her best friend's sister's boyfriend just offered that drowsy teen the idea to try new food. Teens should enjoy the exposure as a whole, not just the photo with the good lighting. Who knows, maybe that scrolling period will turn into tomorrow's plans.