By Saveria Farino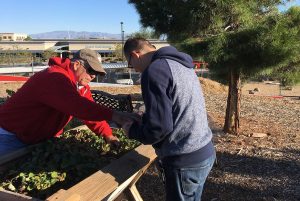 After earning a degree in animal science and business from Brigham Young University, Mr. Gary Manning intended to work with animals, but sometimes plans change.  He certainly hadn't planned on going back to school six years later to earn a degree in teaching, but as it happened, Mr. Manning is now a life skills teacher and has been for the past six years. His classroom has students as early as their freshman year until their twenty-second birthday.  
"I enjoy working with the best students in the world and watching them grow and learn new things, even simple things like being able to independently pay for lunch or make a sandwich," Manning said. "The students are so excited when they can do such things on their own."
He has always enjoyed family time and being outdoors in nature, fishing, camping, and cooking with Dutch ovens. He is also an active member in his church community, loves to work, and serve. As a part of The Church of Jesus Christ of Latter-day Saints, he often volunteers with the youth groups and has worked with the Boy Scouts for 25 years.
In class students learn valuable day to day working skills and life skills through fun experiences. They also try to give back to the community in as many ways as possible. With the class motto, "Treat others how you wish to be treated," Manning aims to help his students learn how kindness and respect can affect others in a positive way.
"I love Mr. Manning's class. Last week we sold 125 cookies," Tateonna Hass said.  "We love to eat the cookies, and we love selling them to the students."
One of his goals as a teacher is to make learning fun and engaging for the students by working to capitalize each student's talents and interests. Whether they are working in the garden or selling cookies during lunch, Manning and his students promote positivity around the school through their high fives and big smiles.
"They teach me about the real meaning of life everyday," Manning said. "High school is such a critical time in life, and I like to think I can make a small difference in their lives and prepare them for the future."