By Lorin Enns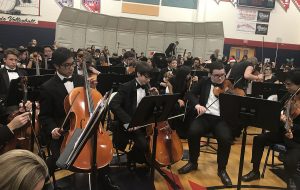 Bringing the gym to life, students and teachers came together for the performing arts assembly on Friday. The annual assembly highlights the various performing arts including choir, wind symphony, jazz band, symphonic strings, dance, and theatre. Each section took turns showing off their talents in order to get assembly-goers in the holiday spirit.
"I always love hearing the performing arts kids play because they make wonderful music," Ms. Bloom, English teacher, said. "I know they put a lot of effort in."
The jazz band kicked off the program, jamming out as the audience made their way to their seats. The small ensemble played first, putting on their rendition of "The Most Wonderful Time of the Year." Mr. McCracken, the band director, along with Ms. Scruton, conducted wind symphony through a piece entitled "Slava!" by Leonard Bernstein.
Choir was split up into separate performing sections for the assembly, including the men's barbershop group singing "Rockin' Around the Christmas Tree," the women's barbershop ensemble performing "Blue Christmas," and the entire concert choir singing "The Christmas Song (Chestnuts Roasting on an Open Fire)."
"It's pretty important to perform in front of people because it shows how performing arts brings us all together," Zoe Conrad, junior, said. "We all have a common love for music and dance, and even though we may not all be in band or orchestra or choir, we still appreciate the hard work and dedication that is put into these crafts."
Mr. Watson, orchestra director, led the symphonic strings through three movements of Corelli's "Concerto Grosso: The Christmas Concerto." Watson's classes performed at their winter concert earlier in the week playing the same piece, along with their traditional performance of "Sleigh Ride."
"I think they did spectacularly," Mr. Watson said. "I believe in anything that creates an awareness of the arts, especially performances by band, choir, or orchestra."
Varsity Cougarettes showed off their moves Friday as well, performing their routine to Clean Bandit's "Symphony." Following their routine, MC Abby Truman took the floor, singing "It's a Perfect Relationship" from the school musical "Bells are Ringing." Truman plays Ella, the lead girl who falls in love with a man, Jeff Moss, over the phone. Opening night of the show is set for Feb. 7.
"I was way nervous to announce and 'emcee' everything, more so than I was to perform my solo, actually," Truman said. "The solo was so worth it because now I know that everyone knows about the musical and will hopefully be interested in seeing it!"
The grand finale combined the talents of band, orchestra, and choir alike to perform "Carmina Burana: O Fortuna." Mr. McCracken conducted wind symphony and the symphonic strings, while choir sang the lyrics in Latin.
Principal Piccininni expressed his appreciation in a tweet following the assembly.
I will be forever grateful for teachers and students who make wood, and metal, and string, and voice sound like this. There are no words. @1001Coronado @MikeMbarton pic.twitter.com/bNAeIhvdNB

— Mike Piccininni (@coronadocougar) December 15, 2017