By Allison Gray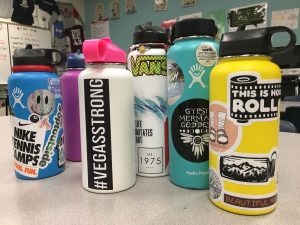 From designing the bottom of skateboards to decorating laptop covers, stickers have been around since 1935. Many students are taking part in the new trend of putting stickers on a Hydro Flask because the colorful product is a creative novelty that can be stuck on just about anything, even a favorite water bottle. In a world filled with individualism and uniqueness the stickers can add a one and only feel to the bottle.
"I love my Hydro Flask because it's covered in my own colorful stickers that are all unique to me," Mia Ohki, freshman, said. "All the stickers are from Hawaii, which is special because I grew up there and consider it my home."
Hydro Flasks have become one of the biggest trends around school. With over 100 products, the Hydro Flask company sold a million bottles from 2009 to 2011. Adding stickers lets people personalize and decorate their bottles. Finding stickers for favorite things like brands, restaurants, or hobbies transforms a Hydro. From "In and Out" logos to beachy vibes, for those looking to express their personality, adding stickers to spice up the flask makes it even more special.
"I have a ford sticker on my Hydro, and it represents my love for my favorite brand of vehicle," Mark Norton, senior, said. "I also have a sticker that says I major in horsepower because I love to go fast when I get the chance."
Stickers are not only in style, but they also serve a purpose. Students make statements and share opinions on something as simple as their Hydro Flasks with these empowering stickers. For example students who stand for feminism and gay pride can add stickers such as the pride rainbow.
"I like knowing every time I lift my Hydro to take a drink, people see my gay pride sticker and understand that it is not a good idea to make homophobic statements around me," Emerald Green, junior, said. "My Hydro has become one of my biggest forms of self-expression."
The stickers online range from $2 to $5 varying from different websites. Stickers can be bought at stores such as Tilly's and online websites such as redbubble, Ebay and Amazon.  
"I like how I can take something like a water bottle and turn it into mine for such a small cost. My stickers let everyone know the things I love like volleyball," Brian Wightman, junior, said. "My favorite place to buy stickers is redbubble because there are hundreds of different colors, meanings and brands to shop from that I will most likely love."
In addition to the vibrant stickers, Hydro Flasks have a variety of colorful tops to choose from: cobalt blue, mint teal, flamingo pink, pacific blue, mango orange and plum purple tops can all be purchased online.The company has a selection of tops from coffee-friendly to sports tops and ones with straws that can accommodate everyone's lifestyles. If customers are still not satisfied, for $55, they can customize the entire bottle: the lid, the flask and the newly-added boot feature.