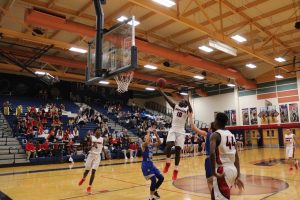 Boy's Basketball
By Joshua Christensen
In a stunning upset, Coronado lost to Silverado 86-83, on Jan. 9 at home. Jaden Harden, freshman, and Taieem Comeaux, senior, contributed 50 combined points, but it was not enough to overcome Silverado.
"We really just needed to readjust. To focus on how we could not only be better ourselves but to be better as a team," Max Howard, sophomore, said.
Bouncing back from the upset, the Cougs easily defeated Basic 91-46 at home on Jan 11. They spread the ball between every player on the team putting up points for Coronado.
Men's basketball has three games coming up. They play at Green Valley on Wednesday before coming home to play Foothill on Friday and Clark at the South Point Arena on Saturday.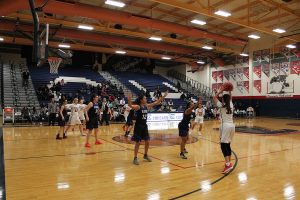 Girls Basketball
By Rayne Hayes
In two amazing takedowns, the varsity women's basketball team ended their week with two victories against Silverado and Basic.
In an intense game on Jan. 9, the Cougars defeated the Silverado Skyhawks 47-33 at home.
"The score was beginning to get close towards half-time, but my team knew exactly what we needed to do and applied our practice to the game," Haley Morton, 11, said.
Following their win, they challenged the Basic Wolves beating them 69-32 at home on Jan. 13.
"This game was an easy but uplifting win for my team." Teagan Varrati, 11, said. "It really instilled our confidence, especially going into our tournament that weekend."
Their next home game will be on Jan. 19 against the Foothill Falcons.
Flag Football
By Sage Tippie
The Cougs continued their winning streak during their first game back from break on Jan. 10 versus Silverado, where they defeated the Skyhawks 40-6. Caitlin Shannon, junior, boosted the team to triumph with passes to Jensen Boman, 12, and Erin Shannon, 9. Taylor Burton, sophomore, also assisted with two runs throughout the first and second quarters.
Defeating the Basic Bulldogs 33-12, the Cougars sustained their success during their away game Friday, Jan. 12. The Cougs struggled to complete their normal plays throughout the game, but their hitch move brought them to victory. Performing their hitch play repeatedly, the Cougs to score, earning 19 points during the second quarter and 14 during the final.
"This game was a bit of a struggle because we were not able to complete our normal plays like usual. Because of this though, the win was even more exciting for our team because it showed that even using only one play, we were still able to beat a defense," Reagan Raimer, 11, said.
Watch the Cougs continue their number one ranking in the Southeast League during their home game versus Liberty Monday, Jan. 22.