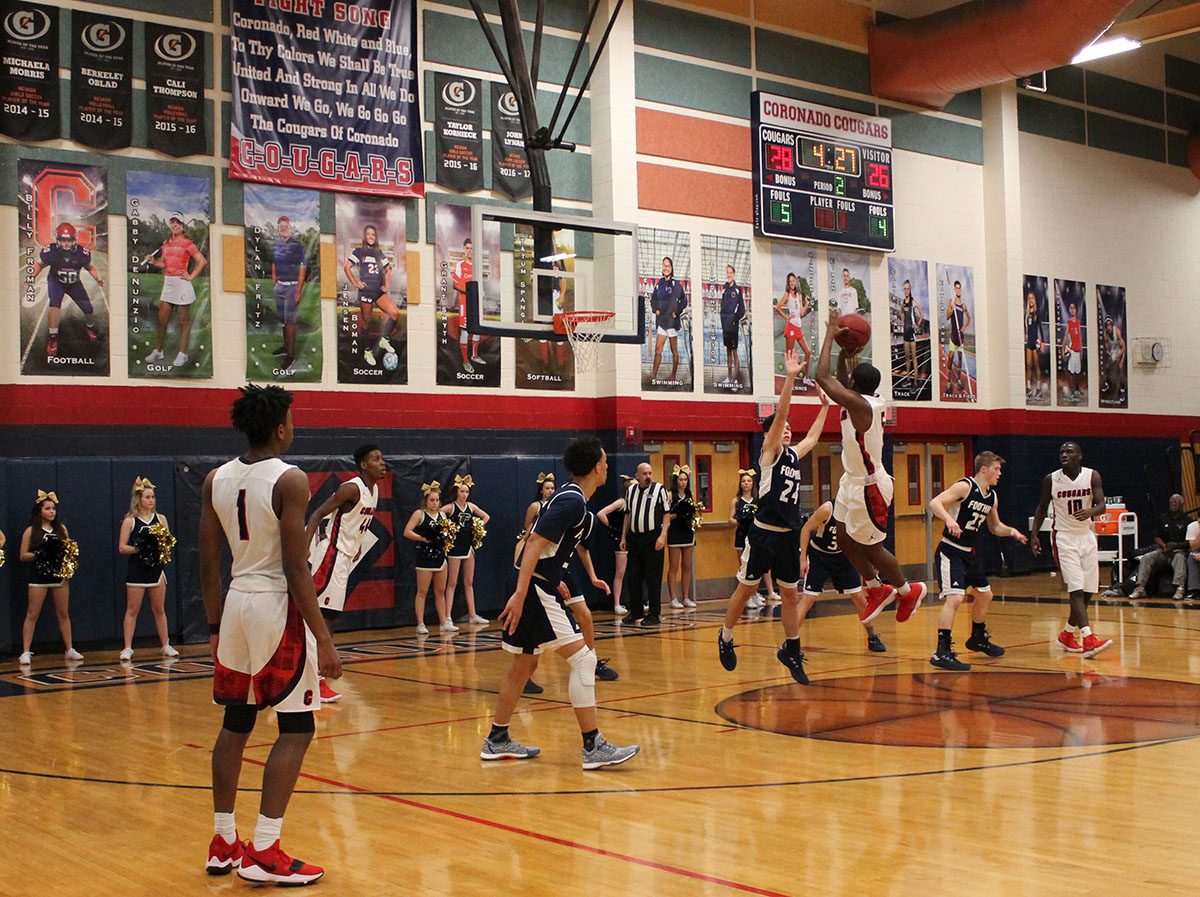 Men's Basketball
By Ryan Kelleher
In a home match, the men's varsity basketball team dominated the Foothill Falcons, 76-57 on Friday, Jan. 19. Freshman Jaden Hardy, scored 21 points making him the highest ranked player at that game. Taieem Comeaux, senior, brought in 16 while his twin brother, Tahj, contributed 12 points.
"Anybody that doesn't think that kid [Hardy] is phenomenal is wrong," Coach Kaufman said. "He's just phenomenal."
Foothill was able to keep up with the Cougs for the majority of the game. By the end of the third quarter, the Cougars were ahead, 58-53, but a Falcon comeback seemed plausible. By only letting the Falcons score four points in the final quarter, the Cougs secured a 76-57 win.
Men's basketball has three upcoming games in the next week. On Tuesday, Jan. 23, the Cougs play at Liberty and then at Silverado on Thursday, Jan 25. The next home game is Friday, Jan. 26 against Bishop Gorman. All three games are at 6:30 p.m.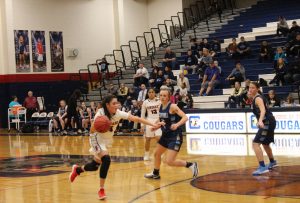 Women's Basketball
By Rayne Hayes
In a nail biting game against the Foothill Falcons, the women's varsity basketball team secured their fourth win, 55-47, on Friday, Jan. 19 at home.
"Foothill is one of the better schools that we play, and our girls, towards the end, were struggling a little bit to keep the lead, but I knew we would come out in the end," Teagan Varrati, 11, said.
The Cougars had a decent lead in the first half, however, the second half brought unseen struggles. With recurring fouls on both sides, free points were being given away. As the game inched closer and closer to being done, the Cougs only had an eight point lead; however, they were just able to keep the Falcons from taking it away.
The women also achieved another victory against the Gators on Wednesday, Jan. 17 at Green Valley, beating them 47-38.
The next home game will be Friday, Jan. 26 at 5 p.m. against Bishop Gorman.
Flag football
By Sage Tippie
Dominating the Gators 31-0, varsity flag football shutout Green Valley, on Tuesday, Jan. 16. The Cougs earned 19 points during the second quarter and 12 during the fourth. Quarterback Caitlin Shannon led the Cougs with two touchdowns, while junior Sydnee Hansen earned one along with senior Jensen Boman . Amanda Burt, junior, backed the team with a strong defense, completing nine tackles throughout the course of the game. On the receiving end, sophomore Taylor Burton and junior Reagan Raimer boosted the Cougs to victory resulting in a grand victory.
"Earning a complete shutout against the Gators was a great victory for us," Shannon said. "I think it marks our team as a really big competitor, and I hope our team's success and winning streak continues throughout the rest of the season."
Catch the Cougs at their next game on Wednesday, Jan. 24 at Basic.