By Joshua Christensen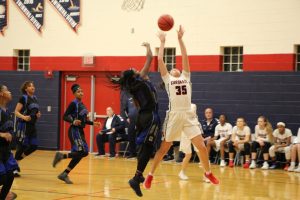 After only three years, Haley Tyrell, senior, has become the third Coronado player to reach the 1,000 career point mark for women's basketball. Tyrell has scored 1,038 career points as of Friday, Feb. 16.
"Reaching 1,000 points was an extreme accomplishment for me because I've put a lot into the team the past three seasons. I was the first girl to do it in three seasons while the other two did it in four," said Tyrell.
Tyrell joins Amanda Smith, who scored 1,084 points from 2003-2006, and Sofie Cruz, who scored 1,337 points from 2010-2013, both of whom have gone on to play basketball in college. Tyrell also plans to play in college and will pursue a medical career..
"Right now I plan on attending Sarah Lawrence College, which is a high academic, division 3 college in upstate New York," Tyrell said. "It's a good balance between academics and athletics. I would like to major in chemistry or biology, attend medical school and be an orthopedic surgeon."
Not only does Tyrell excel on the courts, she also excels in school and is a member of the AP Academy and serves on student council as the student body historian. She puts the same amount of work that she does in school onto the court. Whether its conditioning, shooting around, or team practice, Tyrell works towards her goals everyday.
"I practice and train every day," said Tyrell. "It all adds up and eventually contributes to the growth of my skills."
Tyrell also believes that, in addition to learning new skills, she has learned valuable life lessons from basketball such as the importance of friends and family.
"[Basketball is] like an escape for me. It's always been there for me. I've made friends who I now call my family, and it's helped teach me a lot of lessons about life," said Tyrell.