By Lorin Enns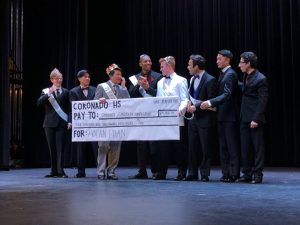 Audiences roared as contestants of the annual "Mr. Coronado" pageant fought talent with talent for the charity of their choice on Thursday, March 8 at 5 p.m. Eight boys participated in this year's pageant, a week-long competition to sell tickets and collect donations for the charity of their choice.
Past contestants' charity picks included foundations such as Safe Nest, Shade Tree, The Cancer Research Institute, and Ehlers-Danlos Society, but this year's competition was different. A portion of the proceeds are being used to directly aid Chauncy Campbell, an alumni currently battling stage IV brain cancer.
"I totally was a huge fan of [donating for Chauncey], he and I were pretty good friends, and we were actually co-workers," Garrett Loveland, senior, said. "It's just so sad to think of what he's going through, and if we can show any support for him, we're all glad to do it."
Following opening introductions, the eight contestants made their way onto the stage with their dates where the boys then thrilled them with their best pick-up lines. Crowds cheered on the contestants as they showed off their dance moves in a group dance display.
Next in the program came the "presentation of talents," a segment where each candidate took the limelight to show off a special skill. Highlights included Bailey Goto, who made sushi and rapped in Japanese, speed painting with Brandon Garcia, Garrett Loveland's chilling rendition of "Let it Go," and Nolan Phan's parody of Ed Sheeran's "Perfect" that was all about his love for corgis, amongst other great skills. Following the show of skill came the Q&A portion.
"I really enjoyed Nolan's talent," Anya Wong, senior, said. "It was super funny, but amazing that he was able to write his own lyrics and play the piano at the same time. That takes true talent, and I'm pretty sure his talent was also the audience's favorite."
As the night came down to the wire, student council members announced the fundraising total of $4358.79, nearly tripling last year's donations. Contestants lined up on stage to receive awards for the spirit days held throughout the week. Brandon Garcia won the sash for Monday's theme "Mr. Betty Crocker," Tuesday's award was presented to Garrett Loveland for "Mr. Professional," Wednesday's "Mr. Gossip Girl" prize was given to Ishmael Jones, and Tucker Clement got Thursday's "Mr. Photogenic" award. At the end of the night came the crowning of the winner, and Nolan Phan took the title of "Mr. Coronado."
"This feels good; it feels exciting," Phan said. "I think it's important that we have events like this because it's a good way to involve the school and to inspire all the students to be more than just students here at Coronado, to be leaders and to give back to the community."
Judges included Mrs. Klimas, along with Coronado alumni and 2017 "Mr. Coronado" contestants Dylan Ziegler and Stewart White. They spent the evening taking note of each contestant's skills, tallying up points and taking every detail into close consideration.
"I thought the performances this year were a lot more creative than ours last year," Ziegler said. "I made nachos, but Bailey made food and rapped in Japanese. It's like they took all our good ideas that were fantastic last year and just made them that much better."
Also visiting Thursday night's event was Tommy Orluske, who took last year's crown. Aside from winning the event and donating the $1,500 raised to the Ehlers-Danlos Society, Orluske also raised an additional $500.
"It feels pretty cool to pass the torch on this year," Orluske said. "It was weird being in the audience for sure. Just thinking of all that's happened in the past year and all that, it's kind of mind blowing. When you move on, these are the things that you're going to remember."