By Emerald Green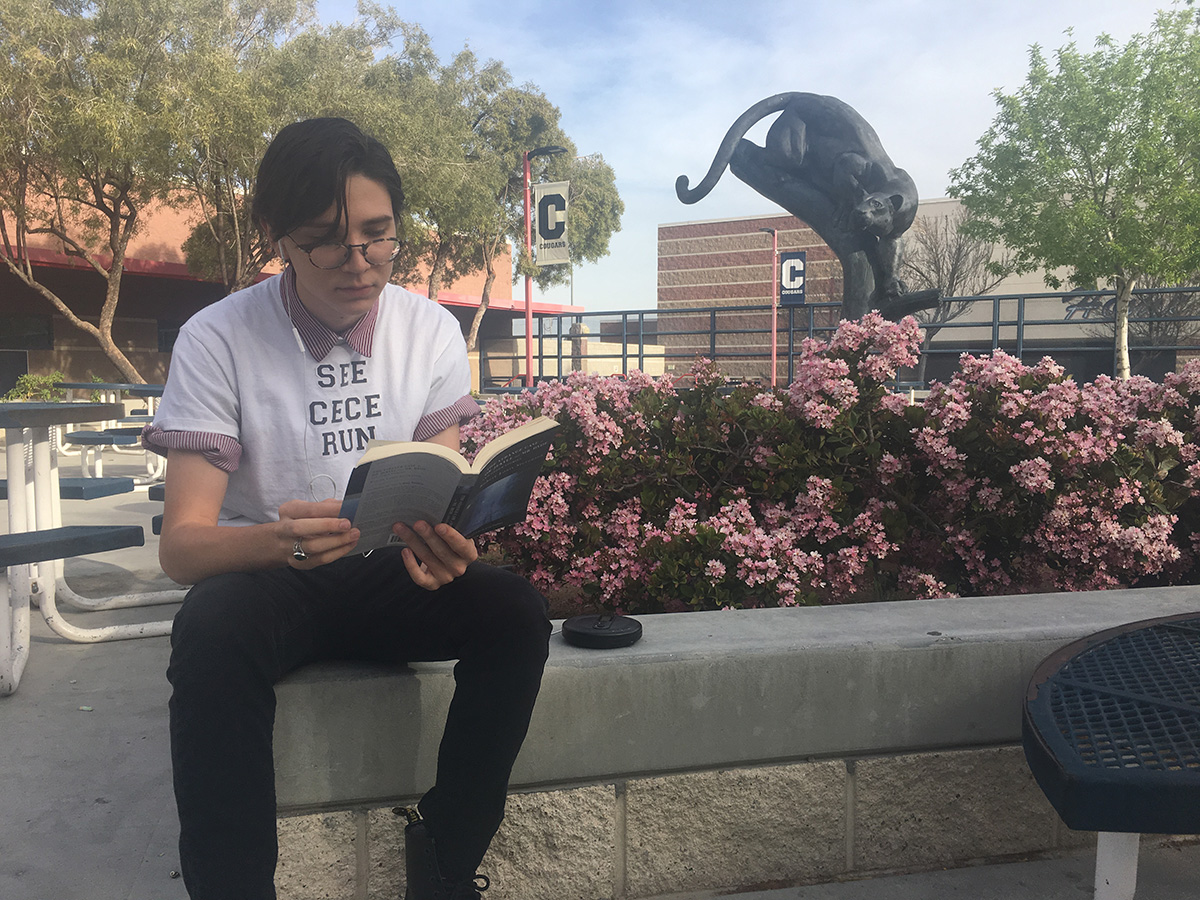 Some may know him as DJ Carl G from his mixtapes, but more are probably familiar with his given name: Carlos Gonzalez. However, he describes himself as "poetic, facetious, cynical, and loving." To add to his aesthetic of "old family pictures tinted with melancholy, with a hint of uncomfortability," this eclectic senior is academic as well as an artist, from acting in theater productions to taking 11 AP classes with his unweighted GPA never falling below an estimated 3.78.
At the beginning of his junior year, he co-founded UNICEF (United Nations International Children's Emergency Fund) Club with senior Clara Watson after noticing the surprising absence of a club dedicated to serving underprivileged children.
"Originally, we had actually thought there was a UNICEF Club," Watson said. "Upon finding out that there hadn't been one at our school, we decided to step up. We have spread awareness about the issues children deal with around the world. It's amazing that we are able to play a part in helping not only children around the world through the money we donate to UNICEF but also taking an active part in helping kids in our own community as well."
UNICEF Club interacts directly with the community. Its members volunteered at the Roots community garden downtown in November, a place that provides food to struggling families. There, they painted walls for the new dog park. In December the club wrapped gifts for customers at Barnes and Noble, educating them about the cause while working for tips to donate to the organization.
Building upon his leadership and initiative skills, Gonzalez decided to start his own book club outside of school at the end of his junior year after former English teacher Mrs. Martin inspired him for two years in a row. The idea was that people could discuss books, poetry, and the meaning of life. He gathered a list of emails of people who were interested, chose the first book, and set up a date that worked for the majority of people who wanted to come. The club is "small but successful."
"Language is so important to how we progress; without it, we stumble blindly forward," Gonzalez said. "I think that not only does an appreciation for elevated diction have obvious aesthetic implications, but it reflects a society that also appreciates learning and using intellect as power."
Gonzalez' love for language and literature even transfers to the theater. For the past two years, he has acted in multiple theater productions, portraying Bertram in "Tell Tale Heart" in Edgar Allen Poe's "Midnight Dreary" (2016) and Laurie in "Little Women" (2017).

"I really liked the idea of getting to express intense emotion, placing yourself in a situation and getting to react, feel, and even learn from said situation," Gonzalez said.

He acts, and in order to express and explore more about himself, Gonzalez paints and writes poetry. As for his music, DJ Carl G draws inspiration from his favorite artists including Arcade Fire, Radical Face, Bright Eyes, Lorde, Taylor Swift, Grouplove, Cyndi Lauper, and The Album Leaf. His current discography is more than 20 songs strong.

"I think he's creative and witty," Mr. Anderson, AP Psychology teacher, said. "I think he's able to do him well; he's not ashamed to just be him. He'll disagree with me about things. For example, he gave me a CD, and I mocked him for it. He proudly owned it and was like 'no, I'll make you a CD.' I think he has a quiet confidence about him. He just does his own thing. I admire that, and I appreciate that in him."
Gonzalez finds the beauty in the often sorrowful. His favorite word is "ephemeral," meaning to last a very short time. He claims that he is smarter, more reserved, and more appreciative of his emotions than he once was. His principal goal for the future is simply to say something worth saying to people worth saying it to.

"I think the capacity to make people feel, especially the strong emotions like sadness, is what gives things meaning," Gonzalez said. "I attribute myself to the people I love because even if they haven't rubbed off on me, they have given me the ability to find who I am."

Professionally, he has considered teaching, for feeling understood and making people understand is what brings him joy. One year from now, people might find him writing between college classes as he will attend UNLV in the fall, swapping Cougar colors for Rebel red despite being accepted into Oregon's Reed College and Occidental College in Los Angeles.

"I think my impact [in reference to Coronado] has been small but successful, perhaps because of its smallness," Gonzalez said. "I think that I have introduced something new into the lives of the people I've formed bonds with, offering a perspective all my own, and I hope that I have inspired people to appreciate beauty, to understand the world, and to ask and answer questions beyond the tangible."