By Kaden Reichel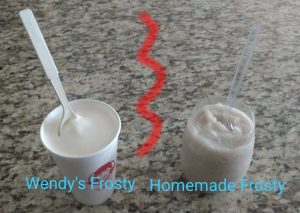 Most people love fast food, but one glance at the total fats and sugars in the nutrition information makes it less appealing to the consumer. In studies from the American Heart Association, one in three American adolescents is found to be overweight or obese, and the leading factor is addictive fast food. Remaking fast food at home provides a healthier version of some favorite fast food staples.
Wendy's Frosty
-3/4 Cups Vanilla Almond Milk
-15-20 Ice Cubes
-1/2 teaspoons of Vanilla Syrup
-1/3 Banana
First: get out a blender, add the ice cubes, banana, almond milk, and syrup- in that order- then blend the ingredients together until well mixed. Add more ice cubes if the consistency is too thin and mix again. Be careful not to add too many because it will make the frosty thicker. Chocolate almond milk and one to two tablespoons of cocoa powder can be added to make the chocolate version.               
McDonald's Big Mac
Burger:
-1/4 pound extra lean ground beef
-salt and pepper
-2 teaspoons of olive oil
-2 slices of 2% American cheese
-1 1/2 light whole wheat sesame seed buns (2 bottoms, 1 top)
-1 teaspoon onion, finely diced
-1/2 cup shredded lettuce
dill pickles in coins
Sauce:
-1/8 cup low-fat mayonnaise
-1 tablespoon low-fat French dressing
-1 teaspoon sweet pickle relish
-3/4 teaspoon minced onion
-1/4 teaspoon white vinegar
Whisk the the mayonnaise, dressing, relish, vinegar, onion and a pinch of salt together in a small bowl for the sauce for the sauce. Next, form the ground beef into two thin patties and season with salt and pepper. Grease a skillet with olive oil and cook the patties over medium heat for about two minutes on each side. After the burgers are cooked, add a slice of cheese to each patty and melt. Remove from heat. Finally, spread half the sauce on on one of the bottom buns, sprinkle with half the onion, top with lettuce, a burger patty, pickles and and repeat. Finish with the top bun.
Raising Cane's Canes Sauce
-1 cup low-fat mayonnaise
-1/2 cup Heinz ketchup
-1 tablespoon plus 1 teaspoon Worcestershire sauce
-1 teaspoon garlic powder
-1/4 teaspoon salt
-1 teaspoon black pepper (fresh ground pepper corn is best)
Combine all the ingredients in a small bowl until well blended. Store sauce in an airtight container for one to three hours before serving. The sauce will stay good in a refrigerated container for up to two weeks if it remains air tight.
Making fast food imitations instead of buying the real thing decreases the risk of heart disorders and other health risks from the sheer amount of fats and sugars. In studies from Harvard Health Publishing, researchers surveyed 500,000 kids from 31 countries in two age groups: six to seven and 13 to 14. In both groups, kids who ate fast food three times a week or more had increased risks of asthma, rhinitis, and eczema. Try these three healthy fast food Imitations to possibly avoid unnecessary health complications.