By Camille Sweeney-Carter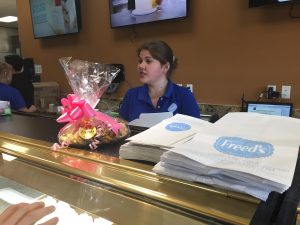 Local businesses are often unique to a person's city. Some are so popular that tourists make an effort to add them to their must-visit list, such as Ethel M Chocolate Factory. Although some other local establishments may not be as well-known as Ethel M, it is important to not only take advantage of what they have to offer, but support the owners that make the magic happen. After all, a business can't run without customers.
From cotton candy cream soda with whipped cream to a classic cherry soda, Fiiz sells it all. This store is found at 2654 W Horizon Ridge Pkwy where a Dairy Queen once stood. They sell specialty drinks called "Fiiz Favorites," as well as Italian sodas, kids' drinks, cookies, popcorn, macarons, cupcakes, and even chips and salsa. Some of the "Fiiz Favorites" include the "Mango Dew" which is Mountain Dew with mango puree, and "Nailed It!," which is Dr. Pepper with blackberry and coconut.
"I like the atmosphere that Fiiz has," Sean Marks, senior, said. "It's like the perfect spot for teenagers to hang out, and their frosted strawberry lemonade is one of the best things on the menu."
These local businesses are not limited to just beverages. Down S. Eastern Ave. there is a shopping center which houses three new stores. One of which is The Sugar Cookie (10960 S Eastern Ave.). Their specialty is sweet treats, such as cookies and cupcakes. Directly to the right of this store is Hobbyone Japan, a small shop which only carries products straight from Japan. They sell merchandise from animes such as "One Piece," "Gundam," and "Dragon Ball Z," as well as manga and other Japanese trinkets.
"This is one of the few local storefront locations where you can find items directly from Japan, which is convenient for those who don't want to wait for things bought online to ship," sophomore Kevin Minamoto, Hobbyone Japan employee, said. "Hobbyone has only been open two weeks; however, anyone who loves Japanese products will likely enjoy this business."
In the same shopping center is Diced Kitchen. Their storefront location is at 10890 S Eastern Ave. This new destination offers healthy meals that can either be bought at their physical location or ordered via text or email. They have new items on their menu every week, and all the meals are delivered right to the customer's door. They have options for vegetarians, vegans, gluten free diets, and food allergies. Some of their meals include gluten free mac and cheese, southwest chicken with lime, soba noodle salad with pecans, and insane cobb salad with tofu. The prices start at around $10. The brand new business has even been featured on an 8 News Now segment.
"I really love the food at Diced, especially their mac and cheese," Jessica Tominna, sophomore, said. "Even though it's gluten free, I still feel like I'm eating good food without all the calories."
Located at 10880 S Eastern Ave., Rico's Martial Arts is directly across from Diced Kitchen. The owner, Mickey Rico, is a fifth degree black belt whose aim is to teach people of all ages self defense, confidence, and discipline. He offers both taekwondo and kickboxing classes. In the taekwondo classes, he says kids can learn skills to help them in the real world, such as a child's ability to interact with people improving through confidence training and working with the kids and instructors at his studio. The kickboxing program is offered to people ages 13 and above, and a black belt instructor leads the workout.
"Taekwondo has been such a beneficial aspect of my life," freshman Jina Umakanthan, second degree black belt, said. "It has taught me important life values such as discipline, perseverance, self-defense, and confidence. My instructors do such a wonderful job instructing and incorporating life skills in every lesson."
Freed's Bakery is famous for its cakes and pastries. They make wedding cakes and event cakes, as well as a plethora of other assorted confectionary delights. This bakery is a great place to grab something for any special occasion. Located at 9815 S Eastern Ave., they have been "baking sweet memories since 1959".
"Freed's has been in Vegas for over 50 years, and it's famous for its specialty cakes for any and all events," junior Maddie Baker, Freed's employee, said. "The reason that so many people love Freed's is that Freed's cares about their customer and wants to do everything they possibly can to make their customers happy."
The Food Network features this establishment in a show called "Vegas Cakes." With a behind-the-scenes look at how some of Freed's more complicated cakes are created, "Vegas Cakes" has given the beloved local business some national exposure.
Every local business can make any city a one-of-a-kind place, and all of these establishments can have a lot to offer, from their unique products to their dedicated staff. Some of the Henderson and Las Vegas area's very own citizens run these businesses. So when out looking for a place to go or eat, rethink the everyday chain business, visit somewhere closer to home, and give their owners some support.