By Bekah Denny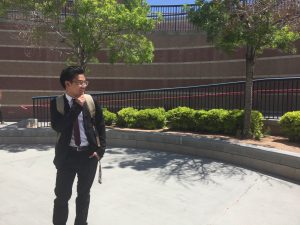 AP academy student and over achiever by day, vigilante tutor and pianist by night, senior Joseph Tran goes through high school just like everyone else, the only difference is he's a valedictorian candidate, who takes five AP classes, plays the piano, and tutors after school and on weekends.
The former competitive golf and tennis player that is Joseph Tran joked along with every question, just like he is seen doing with friends in the hallway or in class. He admitted that he wished he could dance "but apparently the chicken dance stopped being cool in the second grade," a small grin playing at his lips with every word.
Tran's "extracurriculars" center around math. "I'm a member of Mu Alpha Theta (or math tutoring club). I also tutor and teach little kids math on the weekends," he quickly laughed at himself adding, "if that counts as extracurriculars?"
Along with his tutoring schedule, Tran is also apart of the AP Academy where he is required to take at least three AP tests. Opting to fill five of the six classes he's in with AP courses, Tran thrives in AP research, biology, psychology, government, and music theory along with his English 12 Honors class.
After reminiscing about his 11 years playing the piano and his failed "nightmare" attempt at playing the violin. Tran explained he elected to take music theory because he is "trying to learn improv, play by ear, and possibly compose."
With a workload like his, he's able to give the best advice to others following in his footsteps. "When you have a lot of work, you really just have to learn to work as efficiently and diligently as possible. Lots of prioritizing. You have to know what you need to get done and when. Set a schedule and get 'er done."
The best advice he has ever received is "'You reap what you sow.' Basically, if you work hard and focus on the things you want in life you're going to get them." Tran, pauses deep in thought, then adds, "I know it's idealized and doesn't always work out that way, but it's really helped me keep grounded and focused on the important things in life."
In the fall, Tran plans on going to Stanford to study in the medical field to one day be an oral surgeon and conduct interesting research. "I'm actually researching possible phubbing (using a phone to ignore someone) correlations right now in AP research, and I really like the entire process so I know I want to do that in the future," he added.
"I've grown so much. I've learned to be more confident and outgoing and ultimately be happy with the way I am, shortcomings and all," he says with an air of confidence and a grin. Tran gives his past self one piece of advice: "Dress better and invest in Bitcoin."