By Alli Gray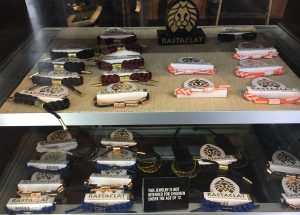 From meaningful charms to colorful beads, wearing jewelry around the wrists is a way of expressing feelings. Almost everybody knows about the newest trend of the colorful rastaclats; however, most don't know the story behind them.
In an effort to spread positivity and encourage "freedom of expression," former skateboarder and California resident Daniel Kasidi invented the simple bracelet by braiding a pair of Mike Carroll Lakai shoelaces together. These became known as "Rastaclats," meaning the cloth of a righteous man or woman. With its modern look and many styles, students all over the world continue to wear the bracelets.
"They have received lots of attention around school because of how colorful and unique-looking they are," Alex Winiarczyk, sophomore, said.
Officially founded in October of 2010, the bracelets caught lots of attention. Like any new brand, it took them about a year to get started. Rastaclats went on to spread positive vibes throughout communities across the nation after gaining popularity. With the movement inspiring so many people, Kasidi decided the main purpose of the product would be a "symbol of righteousness, doing good for yourself and others."
"My friends have the bracelets, and I really like how plain and clean they look," Emmanuel Herber, senior, said. "I want to buy the aqua blue one."
The Rastaclat company makes over 150 bracelets in many colors and styles, costing from $10 to $21, depending on which design is chosen. Although some bracelets might lean towards one gender more in regards to color or pattern, the product is mainly unisex. For those looking to purchase, Tillys and Zumiez sell these popular bracelets.
"I personally love my rastaclat because it is simple and matches everything I wear," Ciera Gerard, junior, said. "Everyone wears them, and it's not something that people can make a stereotype out of."