By Sage Tippie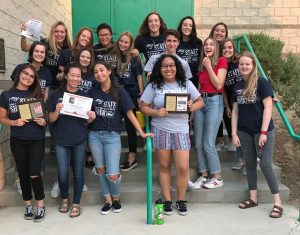 During the annual Southern Nevada Society of Journalists Awards at Green Valley High School on Monday, Aug. 20, The Roar and The Prowl staffs took home a variety of awards, including the title of "All-Nevada" ranked news website.
"I'm so proud of my news and yearbook staffs," Mrs. Thompson, advisor, said. "Awards aren't everything, but it is certainly gratifying to be recognized for the hard work they put in last year."
High-ranking journalists from across the nation judged the SNSJ's. All southern Nevada schools who wish to participate enter their stories, photos, and spreads in early May for a chance to earn either an "Honorable Mention," "Excellent," or a "Superior" rating in each category to which they submitted.  
With entries in 30 categories, The Roar staff gained 16 other awards besides the All-Nevada title in the "Newspaper: Best in Show— Online" category, an accolade which only they and SWCTA took home. The Roar staffers earned Superior ratings in the "Humorous Opinion," "News Photo," "Photo Illustration," and "First-Year Photo" categories. For Honorable Mention, eight entries took the title. The Roar also earned an Excellent ranking in the "Staff Editorial Writing" and "Photo Illustration" categories.
"I'd like to thank society for giving me so much material to criticize," Co-Editor-in-Chief Emerald Green, recipient of a Superior for Humorous Opinion, said. "I've always known that my humor was of a more superior intellect, but it's nice to know that others can recognize it and laugh."
The Prowl yearbook staff earned 20 awards themselves. They took Superior rankings in the "Photo Illustration," "First Year Photo," "Copy Writing," "Caption Writing," "Headline Writing," and "Student Life" categories. In Excellent rankings, they took home titles for "Photo Illustration," "Caption Writing," and the "Club/Organization" categories. They earned 11 awards under the Honorable Mention title.
"It was amazing doing so well at the SNSJ's this year," Co-Editor-in-Chief of The Prowl Rachel Kneif said. "Doing a yearbook last year that was different from our others, it was especially gratifying to see all our hard work pay off and that others could appreciate our vision."