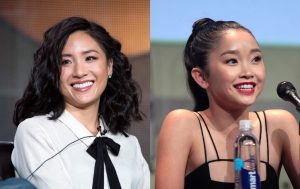 This weekend's movies set a precedent for Asian leads and a revival of the romantic comedy genre with the highly talked-about releases of "Crazy Rich Asians" and Netflix's "To All the Boys I've Loved Before." These movies are a huge step for the Asian community because it proves to Hollywood that Asians don't always have to play the side roles for it to still be a successful movie.
'Crazy Rich Asians' makes crazy rich cash in box offices
By Amanda-Joy Lee
Everyone was  looking forward to John Chu's entertaining film based off of Kevin Kwan's "Crazy Rich Asians," the first movie to have an all-Asian cast in 25 years. After being promoted for so long, the film definitely lived up to its high expectations, grossing almost $30 million its debut weekend and 92% on Rotten Tomatoes.
The film starts by introducing Rachel Chu (Constance Wu), an Economics professor at New York University. Later, at a café, her boyfriend, Nick Young (Henry Golding), asks her to travel to Singapore for his cousin's wedding and to meet his family. She has no idea what to expect and is shocked when she finds out how rich her boyfriend's family is. She is met with the opposition of his mother (Michelle Yeoh) who thinks Rachel is classless and his friends who are jealous of her and eager to sabotage her relationship with Nick.
Although the plot starts off a bit slow, the connection between the main characters is clear in the beginning and allows for a deep understanding of the relationships between Nick, his family, and Rachel, making for a heart-tugging movie as audiences see how they change.
This movie is romantic but also funny. Its comedy comes from Rachel's college roomate, Goh Peik Lin (Awkwafina) and her family, who has no filter. The shameless comments from Peik Lin's dad (Ken Jeong) warrants at least a chuckle. Personal appearance of the upper class is a huge component in the story line, so hilarious roasts and statements of ridicule directed at various characters' facades are definitely something to look forward to when watching this movie.
Not only is the story interesting, the sets are breathtaking. A variety of extravagant homes showcase the wealth of different families. The Goh house is filled with gold and marble and  ginormous rooms; it looks clean and polished, which, ironically, is the complete opposite of the family. The Young house is modern with clean-cut lines and a beautiful medieval staircase, where one of the most dramatic moments between Rachel and Mrs. Young occurs. But, the most memorable set is the $14 million tropical-themed wedding, with plants that transform the church into a jungle. When the bride walks down the aisle, water starts streaming down the aisle so it looks as if she is "walking on water."
One word to describe the costumes would be "stunning." The swan lake-inspired wedding dress is the definition of extravagant, similar to Rachel's blue Cinderella-esque dress. Throughout the film, the extras to the main characters look beautiful. The flashing Swarovski crystals in the lights of the dancing flappers are truly a sight to see. Even the dresses only seen for a couple of seconds in the background are beautiful. It is clear that they spared no expense for the "crazy rich" fashion in this movie.
The last all-Asian film, "The Joy Luck Club" premiered in 1989. Although, this film earned $39.2 million, it did not change how Hollywood casts Asian actors. Most Asian characters are nerds, and Asian men are not portrayed to be as attractive as men of other races. "Crazy Rich Asians" breaks those stereotypes so more movies can include Asian main characters.
From the jaw-dropping acting, soundtrack, dancing, sets, and costumes, "Crazy Rich Asians" deserves to be a major contender for the Oscars, especially with the newly-added "Most Popular" category. This movie is receiving so many positive reviews and is based on a trilogy, so fans can only hope that there is a sequel in the future.
'To All the Boys I've Loved Before' revives the teen rom-com
By Emerald Green
Based on Jenny Han's 2014 novel of the same name, "To All the Boys I've Loved Before" became available for streaming as a Netflix Original on Friday, Aug. 17. It tells the story of Lara Jean Covey (Lana Candor), a high school junior, and what happens after her five secret love letters wind up in the hands of every boy she's ever crushed on.
The film starts with Lara Jean's eldest sister (Janel Parrish) moving to Scotland for college, leaving Lara Jean, their youngest sister (Anna Cathcart), and widowed father (John Corbett who starred in the ground-breaking "My Big Fat Greek Wedding" in 2002) to navigate life without her. These talented actors created a believable, close family dynamic in the Covey clan from their first scene at the dinner table to Christmas Day. The Coveys have a familiar energy that makes people feel like they've lived next to them forever.
The cinematography uses color and shadows to capture current high school life and contemporary American suburbia. The common and switch to very wide shots allows the audience to find a broader perspective before the well-done and creative choice to include face-frontal camera angles gives the audience the opportunity to view the characters as a reflection of themselves.
Candor, an American actress adopted from Vietnam, plays Lara Jean, the half-Korean, half-white, 16-year-old girl with a quiet confidence and fantastic sense of style. It is maybe the first time that audiences get to see an Asian-American actress play the lead in a teenage romantic comedy, and Candor delivered a brilliant performance, often saying more through her facial expressions than with her words.
Opposite Candor, Noah Centineo is Peter Kavinsky, the handsomest of Lara Jean's five crushes. Peter's character is slightly more complex than the usual male love interest rom-com fans are used to and better: he is prideful and sensitive, sarcastic and sweet, and secure enough in his masculinity to sport a scrunchie as a bracelet. He is the new standard of what the hot, cool guy should be in high school.
Centineo and Candor have a harmonious on-screen chemistry that causes the audience to cheer for the success of their relationship. The choice to select almost unknown actors for this movie enabled the characters to take on lives of their own. Lara Jean and Peter's story will not die in the shadows of two big, Hollywood names; instead, they will have their own legacy.
Scoring a 94% on Rotten Tomatoes, not only is this film a win for Asian-Americans, but for women in the entertainment industry as well. Sofia Alvarez wrote the screenplay, and Susan Johnson directed this funny, dramatic, romantic movie that possesses the essence of a movie that will stand the test of time. It brings back the magic of John Hughes and the beginning of the rom-com genre in the 80s as the characters pay homage to "Sixteen Candles" (1984) and compare Peter to old Hollywood romance actors like James Dean; however, "To All the Boys I've Loved Before" establishes itself as the new classic romantic comedy in a new era of diversity for the latest generation.