By Oliver Van Aken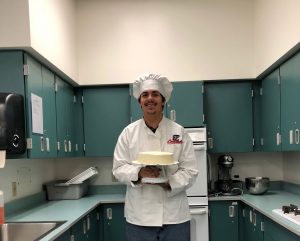 Previously known as the Cougar Café, Café Coronado will open its doors for the first time this school year on Thursday, Sept. 20. Located in room 300, it will offer another lunch option to students and faculty every Thursday during first and second lunch.
"The café has a very professional setting," Mr. Hurt, English teacher, said. "It reminded me of any other restaurant I've been to. The meals are always well-rounded and come in big portions."
Monday is when the menu goes out on a Google Form to all teachers and when the  culinary students learn how to make the dishes. On Tuesdays and Wednesdays, the students cook and prep the dishes for Thursday. At the end of each week, they learn other standard kitchen and culinary lessons, like how to use knives properly and how to make other dishes.
The café serves full-time during first lunch; however, they only offer to-go orders for second lunch so that the café workers can eat lunch, too. The menu for the first week will consist of a variety of egg dishes and pastries. If customers were familiar with the menu last year, the new menu will be fairly similar.
"I like Café Coronado; it offers variety." Brandon Levy, junior, said. "It allows me to eat something different every week."
Culinary Arts II and III students are the staff, chefs and hosts of the cafe. Every student has one of six jobs: busser, dishwasher, server, Executive Chef, Sous Chef, or Manager. All students with managing positions are in Culinary Arts III. The students prepare service for 100 but usually end up selling somewhere close to 75 lunches.
"Running the cafe is very rewarding," Culinary III student, Hailey Montalbano, senior, said. "I'm glad that I have the opportunity to work the cafe."
Montalbano, who runs the café along with her classmates, won the state championship and placed seventeenth in a national culinary competition for the Nevada Restaurant Association Educational Foundation. She also earned a job at the Asian cuisine restaurant Pei Wei and suspects her success has come from not only being in the Culinary Arts classes but working in the café as well.
The Culinary Arts students not only learn how to run a business in the food service industry, but become a family.
"Food is love; love is family. From our family to you, we share our love," Culinary teacher Mrs. Taylor said.