By Madison Kitch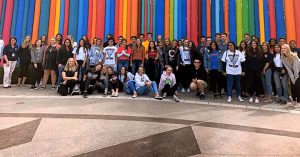 Last week Spanish IV Honors and AP Spanish Language and Culture classes attended Ballet Folklórico de México at the Smith Center on Tuesday, Oct. 16 to learn more about Spanish culture.
Ms. Piza and Mrs. Sosa, who organized the field trip, first heard about the trip offered in a CCSD email. Mrs. Sosa quickly signed up the Spanish IV Honors and Spanish AP classes. This is the first time that any Spanish class has gone on this field trip.
"I hope they feel more connected," Mrs. Sosa said. "That's [always] the goal with taking students on a field trip."
Ballet Folklórico de México is an internationally renowned dance group that travels the world to celebrate vibrant cultural traditions from Mexico. Founded in 1952, the traveling show has performed for over 45 million people worldwide. Ballet Folklórico de México showcases over 500 large, hand-crafted set pieces.
"I especially liked the dresses, music, masks, and bright colors," junior Caroline Eisenberg said.
The company has choreographed for 40 ballet shows with 76 dancers around the globe.
"My favorite part was seeing these huge men with big masks dance around the stage," junior Celeste Kiernan said. "It was super interesting to see it in a dance."
The goal of most field trips is to learn more about the subject/culture and see it in real life. Seeing this show live has helped many students understand more about the culture of the language they've been learning.
"I definitely feel more knowledgeable about their culture," Eisenberg said.