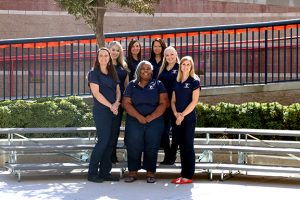 By Amanda-Joy Lee
One of the benefits available to high school students is access to the counseling office. Starting with freshman year, counselors meet with students at least two times a year throughout their entire high school careers to plan their futures. Nearing the homestretch, seniors are encouraged to meet with their counselors to chat about the requirements needed to reach their future goals. The counseling office is available to all students that need emotional or academic aid.
"We are the connection between students and the community," Mrs. Diffley, counselor, said. "Helping our students accomplish their goals for the future is something we strive to do for each student."
October is College Awareness month, the time when seniors should start applying for different scholarships and colleges before deadlines arrive. As deadlines approach, meeting with counselors is helpful if there are any questions about applications and admission requirements. Students meet with their counselors about recommendations and are often asked to fill out forms or bring in resumés to assist the counselors in writing the letters. Writing an upward of 240 recommendations a year, each counselor submits recommendations to further seniors acceptances into colleges.
"My counselor helped me with my common application, finding scholarship information, and giving me [letters of] recommendations," senior Sarah Rickards said.
Counselors provide apprenticeship opportunities for students wanting to pursue more hands-on fields such as cosmetology. Students can also go through CTE programs that allow them to gain practice in their field.
"Counselors give me everyday advice about college," senior Marie Claire Shamiya said. "They provide compassion and insight that an everyday high school student wouldn't know."
The counselors are not just available for academics. They are also available as confidants for students that need emotional support involving family, school, and their community. If emotional support is needed, students should see any counselor immediately to seek advice for help with the problem.  
"There is a misconception about counselors only being available for academic help," counselor Mrs. Williams, counselor, said. " We are here for any issue students need and are willing to help."
The graduates of 2018 earned $26 million dollars worth of scholarships and grants with the help of the team of counselors alongside teachers, administrators, and support staff. Coronado High School was also the number one ranked school for completing the FAFSA last year, and it is a goal again this year.
"Seeing the kids graduate is the greatest accomplishment for me," Mrs. Williams said. " Making sure they are confident in their decisions for the future is our number one goal."
The counseling office is open from 7:30 a.m.-2:45 p.m. Students can make an appointment with their counselors through their website or directly through the online appointment application.