By Angeli LaGuardia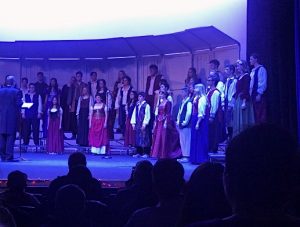 Echoes of applause erupted in the theatre from 6-8 p.m. on Monday, Oct. 22 as various choir groups showcased their music at the fall concert.
In order to get concert ready, all groups are placed in varying singing groups. Choir director Eric Fleischer handpicks his groups based off of musical skill, and further places them in sections, where he believes they sound best. Fleischer is in charge of teaching choral music to four distinct choir groups: Bella Voce, an all girls' beginning choir, Concert Choir, a more advanced mixed boy and girl singing group, Boys and Girls Barbershop, two smaller swing music groups, and Madrigals, the most advanced renaissance-themed choir group.
"I love being a part of Barbershop," senior Christian Romo said. "Being able to perform in such an intimate group during the fall concert allows me to express myself musically, along with showcasing other musical talents, where I played the banjo."
Rehearsing since Aug. 13 until the end of the first quarter, Oct. 12, singers go to sectionals during early bird and class where they consecutively run through pieces that all differ in tonality, theme, mood, and genre. Because all the pieces are so different, choir sustains 10 rehearsals per week to ensure success.
"Rehearsal is important because it allows all of our pieces to flow and be executed in the best way," senior Rafael Canizalez said. "Rehearsal, whether in sectionals or not, helps everyone sound better as we practice day by day to perfect our technique and tamber."
Each singing group is given the opportunity to master and perform two to three pieces per quarter. Bella Voce sang three pieces, "Sail Away With Me," "In the Highlands," and "Ahrirang." Concert Choir sang three pieces, an Irish autumn tune known as "Loch Lomond", a seasonal spiritual titled "No time," and a classic Halloween favorite "Thriller." Madrigals showcased three songs, a traditional renaissance piece titled "Fair Phyllis," a fall melody named "Jenny Rebecca," and a Histonian piece titled "Kodutee." Barber Shops both performed a swing piece, and a fall-themed song, where boys sang "Country Roads" and "Monster Mash", while girls executed "Lollipop" and "Hocus Pocus" "I Put a Spell on you." Choir made costume changes off stage, as the audience continued to cheer after each set.
"My favorite song we performed from the fall concert was probably 'Kodutee' because it's so beautiful and had some really appealing harmonies," sophomore Natalie Mason said. "Also, the meaning behind 'Kodutee' and its connection to new beginnings, almost like the start of a new season, was so captivating."