By Amanda-Joy Lee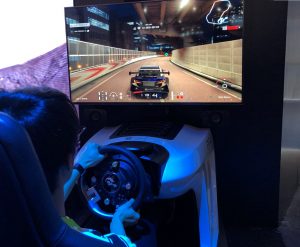 Tech lovers from around the world gathered in Las Vegas from Jan. 8-11 for the annual International Consumer Electronics Show (CES) where they debuted some of the world's newest and most innovative products. Audiences were in for an entire week of tech-based excitement with different activities and products to look at.
"There was so much amazing technology," Ruby Draayer, senior, said. "Being a part of the entire process was completely mind-blowing."
The convention was divided into sections, each showing off different and new innovations, most notably was "Eureka Park" where companies showcased their ingenuity with new products. "Sports zones" showcased sports technology advancements such as new bikes or customized sports analysis to help players improve their game sense. "C-space" was an area where like-minded developers could talk and solve today's most distressing problems including technology and the future of advertising. A discussion on "Smart cities" brought minds together to comprise solutions that could be used for a better, healthier planet. Lastly, the "Design and Source" zone allowed people to invest in some of the best up and coming products.
"I liked seeing all the newest inventions," Anne Burton, senior, said. "It made me wish I was rich, so I could buy everything."
During the event, conferences and featured speakers such as  Mayor of Washington D.C. Muriel Bowser, CEO of AT&T John Donovan, and Chief Revenue Officer of Pop Sugar Geoff Schiller. CES held conferences throughout the day for people to talk about advanced technologies enabling the future customer experience, gaming: the killer AR/VR/MR App and AI enabling the human.
"I listened to a photographer who inspired me to do better with my own photography," Victor Chen, senior, said. "People have been gaining more experience, and the knowledge we have is definitely getting better."
Some of the most important gadgets released at CES were new laptops from ASUS and ACER, Audio Technica's newest noise-cancelling headphones, Google Assistant Connect, which is designed to let manufacturers add customer service for products they have made and Nissan's in-car avatar that is a ride along assistant. The Nvidia GEForce RTX 2060 Graphics card and Samsung will offer Apple iTunes and AirPlay 2 access on its 2018 and 2019 TVs.
"I'm most excited for the 5G LTE," Kaiyu Hashitani, senior, said. "Seeing all these advancements makes me excited for technology in the future."
It is never too early to prepare for next year's CES by being updated on the latest news regarding deadlines and registration dates which can be found on their website. Even though CES has finished for the rest of the year, there will still be continuous updates on today's latest technology, especially since major companies such as Apple don't participate in CES. Don't forget to look out for the advancements to come.
"I was blown away by how quickly innovation is growing," Terry Jang, senior, said. "Seeing all the amazing tech made me excited for the future of tech."