By Kassidy Weber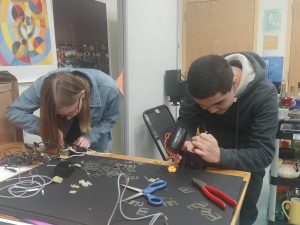 Student artists from the National Art Honors Society have come together in a collaborative effort to create a art piece to contribute to a local art show.
The Public Education Foundation is holding the art show which pieces comprised of recycling materials on Jan. 28 from 4-7pm at the Public Education Foundation gallery 4350 S Maryland Parkway, 8919.  The Foundation will receive 40% of the money earned, and Coronado's program will receive 60% of them money.
According to the Curator of digital media, Chrissy Pavesich, the teacher will have the choice on how to distribute the money.
"We're going to be using the money to invest in more art materials and for more representation," National Art Honors Society member, Darren Johnson said.
The piece they're creating is called 'Nature vs Technology'. They're creating a sculpture using various tech related items with a natural twist while keeping a Vegas flare. The students are working together and sharing their perspectives and creativity. A bit different from the projects they more commonly do, this project is an opportunity to work on their communication and teamwork skills.
"We're combining Vegas, nature, and tech so we can show how they clash together, " National Art Honors Society member, Alexia Dreher, 12 said.
The base of the sculpture is a metal chair with a crafted tree appearing from behind it. According to Ludwick, they're using recycled CDs, x-rays, wires, and stripped computer parts. While creating this piece they got creative with their usage of materials by smashing the CDs,painting wires and going the extra mile and recycling photo film to create leaves for the tree.
"We get to know each other as a club " National Art Honors Society member Athena Hildt said. " This project is an opportunity to create new relationships."
They're building teamwork skills as they build this sculpture together piece by piece. The club is planning on finishing the sculpture and taking it to the Public Education Foundation Center on January 18, where it will be put into the gallery where buyers can come feast their eyes on the variety of recycled artwork. Even though they are a smaller cub, they don't back down on big challenges
"Usually we all work separately, now we're all working together as a group," Bailey Ludwick, club president said. "It's nice to work with others."