By Lulu Clemmons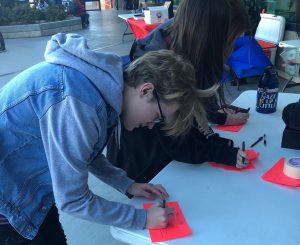 It's Valentine's Day, you're sitting in class, when suddenly choir students bust through the door singing "Teddy Bear" by Elvis Presley. It's a Valentine gram, a way for the choir to fundraise their program just in time for Valentine's Day.
"This will be my first year with the Valograms, but I'm looking forward to it," junior Makenzie Lefter said.
Men's concert choir and women's barber shop break down into three smaller groups and practice their own pre-picked songs daily. During lunch in the days leading up to Valentine's Day, groups of choir students sell Valograms for $3 for one and $5 for two, taking down who it's for and what class it will be delivered to. You then choose one of the pre-picked songs, "Happy Together" by The Turtles, "Accidentally in Love" by Counting Crows, "Want You to Want Me"/ "Wanna Dance with Somebody" by Jason Derulo/Whitney Houston, "Teddy Bear" by Elvis Presley, "Put Your Head on My Shoulder" by Paul Anka, or "I'm Yours" by Jason Mars.
"Valograms are my favorite thing to sing because we get to pick our own songs and showcase our ability to sing other kinds of music," senior Aubrey Trueman said.
When all the requests are taken and Valentine's Day arrives, each group delivers the cards accompanied by the song of choice. This week students can purchase a Valogram during lunch to help support the choir program and show their love for a best friend or special someone.
"I'm excited to buy one for my boyfriend," sophomore Cooper Copp said. "I think it will be a cute way to show how much I love and appreciate him."