By Valerie Perez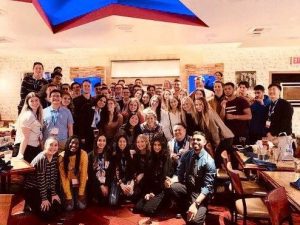 At the competition from Feb.10-12, DECA, Distributive Education Clubs of America, members competed against other schools at the Rio. They took fourth place, earning the most points involving their topics. Students competed with other DECA members from across Nevada in competitions involving topics such as marketing, hospitality and tourism, business and management, and finance.
"For my two events this year I chose marketing services and business," senior Nadia Abuasaba said. "My events truly interest me and excite me for the future. I couldn't imagine doing anything else."
Judges tested their knowledge by giving a written portion, an exam involving their specific topic with a question. Then, they were given an interactive segment, allowing students to be in "roleplays," an interview with either a solo person, a partner group, or team. The judges explained a scenario and students had to answer with solutions involving their topic. Answers could vary although the most helpful solution to the question was most preferred.    
"My roleplay was much easier than I thought, and I'm sure I did a good job at keeping the judges captivated," freshman Cole Melchert said.
The top three overall members from each topic who received the highest score for the written portion and the best presentation for the interactive component, as well, won. This lead Coronado to place fourth in Nevada.
"The competition was a great learning experience," freshman Arianna Falchi said. "I'm looking forward to doing it again next year."