By Samantha Catalano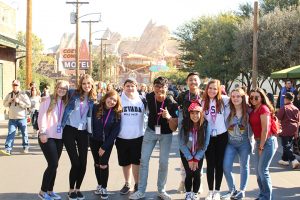 Student Council attended a leadership conference held at Disney's California Adventure Park on Feb. 7 and 8 to learn about leadership. The council spent two days bonding at the theme parks, learning how to become better leaders and mapping out the steps to complete their life goals.
"At the conference, we learned our core values and how we can input them into our future," junior Savanna Bergquist said. "We also learned how to reverse-plan our goals to accomplish our dreams."
Participants learned about Walt Disney's determination and journey to success with activities in the park along with discussing Walt Disney's leadership skills and the qualities a leader should have.
"It was so much fun bonding with the council and learning about Walt Disney's ambitions and leadership skills," junior Emma Aguero said.
Following the convention, council members spent their free time enjoying rides and attractions throughout the two parks.
"My favorite memory from the trip was combining the lessons of leadership through activities in the park," junior Jordan Bye said. "Guardians of the Galaxy was my favorite ride."