By Sage Tippie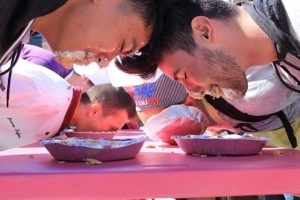 Editor's Note: Mr. Coronado is rescheduled for Monday, March 4 at 6 p.m. Tickets are still being sold for $5 during the week and $10 at the door. 
Contestants in the Mr. Coronado pageant will compete for the title in the theater on Friday, Feb. 22 at 6 p.m. Showgoers can purchase tickets for $5 from a Mr. Coronado contender during lunch or at the door.
"I think Mr. Coronado is important because it raises awareness and helps support different charities around the world," senior Katie Mars, StuCo member, said. "Not only are the boys involved exemplifying the Coronado spirit and what it means to be a Cougar, but they showcase various organizations in a humorous and entertaining way."
All money raised from the tickets sold goes to the winner's choice charity and the Coronado Strong scholarship. Last year's Mr. Coronado winner, Nolan Phan, created the Coronado Strong Scholarship in hopes that Coronado students in need could be given the best opportunity available to them.
"I really wanted to participate in Mr. Coronado because it's a fun way to raise money for charity," senior Jaeger Lefler said. "My charity is the Brady Heart Foundation which works to help spread awareness for heart disease and those who struggle with it. The minute I understood what I could achieve for my charity, I was all in."
The seniors competing in this year's Mr. Coronado are Matheu Nazareno, Brandon Buenrostro, Gavin Wale, Ai'jalon Bonsu, Jaeger Lefler, Jake Christenson, Cole Russo, and Rafael Canizalez. Each boy will be judged on their cheesiest pick-up line, best joke, and special talent at the show. Leading up to the big day, contestants are dressed up for spirit days and participate in lunchtime activities to raise awareness for the show.
"Being apart of Mr. Coronado, representing your school and competing for something you care about is really a once-in-a-lifetime opportunity, so I had to take it," Russo said.