By Madison Kitch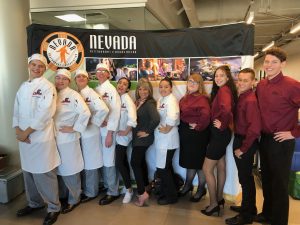 The Coronado Culinary Club won first place at the 2019 Prostart State Culinary Competition in the Buttercream Cakes and Management categories at UNLV on Saturday, Feb. 23. They also got second in Buttercream and Hot Foods categories.
The team, composed of 10 students, competed for the chance to fly to Washington, D.C. in May for Nationals. They were divided into three teams: Management, Buttercream Cakes and Hot Foods. Management specializes in displaying a variety of dishes and creating their own menu which includes a sample menu, floor plan for a restaurant and layout. The Buttercream Cakes team designs their own cakes and displays their decorative style with each team member working alone. Hot Foods works together as a team with classic-style cooking and powerful flavors to make a dish that will impress judges.
"I was very nervous going in," junior Andrea Maldonado from the Buttercream Cakes team said. "It was my first time competing, and I think I did best on the actual piping and piping the roses."
Culinary Club won Nationals previously in both 2017 and 2018. Last year, each student competing in state competitions won $64,000 before heading to Nationals. At Nationals, 10 lucky teams will get the chance to win over $1.5 million in awards. Members of Culinary Club took home monetary scholarships and gained experience. This year, each student in Culinary Club has won $18,000 without even leaving the state.
"It's sponsored by the National Restaurant Association, which is a big organization that lobbies for restaurants within the United States and provides a lot for them as well," Chef Taylor said.
Culinary Club has been training for state for the past four months, and they'll head to Nationals May 7-11. On top of working hard to better their skills, Culinary Club has also been running Café Coronado. In addition to the cafeteria, the café offers another lunch option every Thursday during both lunches.
"I learned that sometimes having fun and calming yourself down is more important that stressing yourself out over practicing," junior Jessica Ferry said.