By Valerie Perez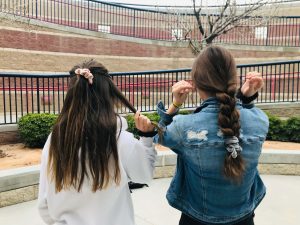 Look around a classroom, and girls may be sporting scrunchies on their arms or clips in their hair. Deciding on a hairstyle is arguably one of the most crucial parts of a daily routine. Among today's trends, hair accessories are growing in popularity.
Scrunchies were popular in the 80s, but now they've made a come back; many people sport them as an accessory or use them as a hair tie. Scrunchies are simply just an elastic with colored fabric sewn around it. It may seem plain at first, but there are numerous options from which to choose. The fabrics range in materials like velvet, silk, and cotton, and patterns like leopard print, stripes, and florals. This accessory is the perfect way to spice up any hairstyle from the simplest of ponytails to a half up half down or complicated braid.
Many people become frustrated when their hair ties become gradually loose or even worse, snap apart. Spiral hair ties solve this problem without leaving a pesky kink in the hair. It can wrap around the hair many times to ensure it's locked in place. Regular hair ties tend to crease the hair, especially when you leave a ponytail in for hours. This problem is less likely to occur if you use spiral hair ties because they're designed to solve this issue.  Like scrunchies, they come in many colors and shades. They're sold in the whole color spectrum and can be chosen as matte, glossy, or metallic. These ties add volume to the hair because of the ridges they contain, boosting the style.
"Having these hair ties is a life saver because I hate the crease regular ties leave in my hair when I leave a ponytail in for hours," Kaelyn Mills, freshman, said.
Clips, barrettes, and bobby pins have had a distinct way of spicing up a look since the 90s. Many love adding vibrant accessories inspired by their childhood hairstyles. They can make a statement with bright neon colors and patterns. Accents are added on top like flowers, beads, and other items. These clips can be used to pull hair back creating a style that frames the face better, while still taking a trendy, unique twist on any look.
"When I want to do something extra with my hair, I add a bright clip that matches my outfit," Leilani Sanz, sophomore said, " Not only does it look cute, but it gets my hair out of my face."
As with the spiral hair ties, these don't allow for creases but the overall style takes a different direction. This ribbon hair tie is made simplistically: an elastic fabric knotted on itself to easily wrap around the wrist. Ribbon hair ties come in various patterns and materials. This accessory can be the perfect compliment for a messy low pony or bun.
With headbands, the options are endless. The ways a headband can be worn is ultimately up to you. Dainty headbands may be smaller and thinner, accented with gems or pearls, making for a simple, elegant look. Thick headbands can be worn as a statement piece to pull the hair back for a boho look. For headbands, cloth, fabric, and even bandanas can be used. With bandanas, hairstyles can be spiced up by tying it around the base of a messy bun or simply pulling the hair back.
"I love adding headbands into my hair to spice up a plain look," Selena Garza, freshman said, "It's something a little extra to add to my overall outfit as well."
Whether you choose scrunchies or barrettes, headbands or hair ties, there's a hair accessory for everyone. Whatever you may choose, not only will the hair band tie your hair, but it can tie your whole look together.